Shalimar Florida Attorney
If you find yourself looking for a Shalimar Florida Attorney, the Lawyers at the Bruner Law Firm are ready to help. Shalimar, Florida, is a small town located in Okaloosa County. Originally called "Port Dixie," Shalimar began as a housing community for military officers developed by the town's first mayor, Clifford H. Meigs. Shalimar is now known for it's family-friendly neighborhoods, Choctawhatchee Bay, Shalimar Poquito Bayou, and Garnier Bayou. While generally a quiet town, Shalimar experiences a heavy influx of traffic due to visitors traveling to the beach, and residents commuting to and from work. The abnormal and varying amount of traffic within Shalimar creates a high potential for automobile accidents and injuries to occur. Also, traffic in the mornings to nearby Eglin Air Force Base creates many road hazards and dangerous situations as people rush to make it to work early in the morning. The Shalimar Florida Attorney and claims consultants at The Bruner Law Firm have helped hundreds of clients in the city of Shalimar, Florida and will meet by appointment at any time, at any location. We have settled the claims of hundreds of out-of-state claimants as well. Even if you are an individual that has come to Shalimar Florida from another state, the Shalimar Florida Attorneys of the Bruner Law Firm can help you with you case. The Bruner Law Firm specializes in giving individual attention to our clients. Call our Shalimar Florida Attorney today at (850) 243-2222. The consultation is free and there is no commitment required. We have offices in both Fort Walton Beach, (very convenient to Shalimar, Florida) and Panama City, FL. For more information on the City of Shalimar, the wikipedia article can be accessed here.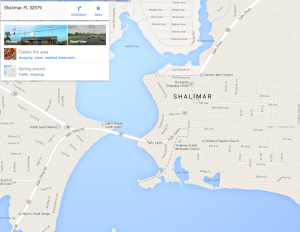 This map from Google Maps shows the geographic areas of Shalimar Florida.