Fort Walton Beach and Panama City Jet Ski and Boat Accident Lawyer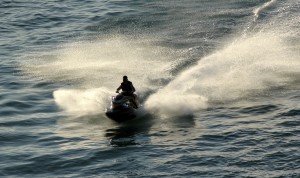 The many beaches, bays and intracoastal waterway areas along the Emerald Coast, are ideal for recreational boating including jet skis or personal watercraft. Panama City Beach, Destin, the beaches of South Walton, Port St. Joe beach and Fort Walton Beach see hundreds of thousands of visitors each year.
The fun and enjoyment of those enjoying the water can be tragically interrupted by the carelessness or negligent acts of others causing personal water craft accidents (PWC). In fact, Florida enjoys the dubious distinction of having led the nation for several years as the state with the most marine accidents. Jet skis and boats don't have brakes. Unlike cars, trucks and motorcycles, where the use of a brake, applied quickly and forcefully, can bring a vehicle under control, personal water craft and boats are largely dependent upon the operators effort to reduce the throttle or thrust of the engine, and change direction. This may be "too little, too late" and tragic injuries can occur.
Many jet ski or recreational boat operators are relatively new and inexperienced in the use of these watercraft. Having no brakes and greatly reduced steering abilities, are both counter intuitive to novice operators.
More information of Jet Ski and Boat Accidents:
Jet Ski and Boat Accidents on Wikipedia  |  Personal Water Craft Accidents  |  FREE Case Evaluation