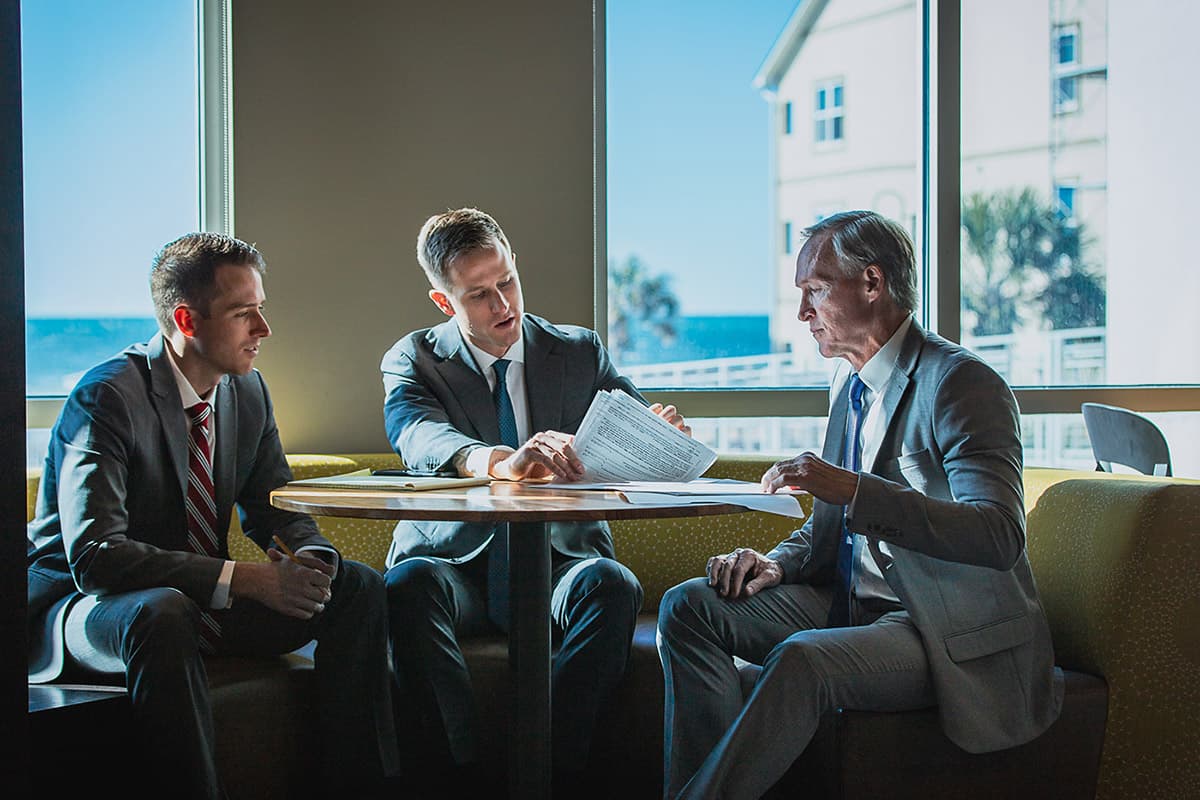 Were you hurt in an accident caused by someone else's recklessness, carelessness, or an intentional act in Panama City, Florida? The Bruner Law Firm has over 25 years of experience handling personal injury cases in Panama City and Fort Walton Beach. Our team of legal professionals represents victims of accidents and neglect. We dedicate ourselves to ensuring our clients receive the financial compensation they deserve. We have the knowledge and skills to negotiate with insurance companies to reach a settlement or litigate our clients ' cases to take to court.
When you hire one of our Panama City personal injury lawyers, you can count on working with someone who will make you their priority. We take pride in the level of customer service we're able to provide for our clients. Our staff is available 24/7, so you can reach us whenever you need us. Nothing will fall through the cracks, and you won't get ignored throughout your case. We believe in keeping the lines of communication open to update you on the status of your case and answer any questions you have. You can rest assured you will be in excellent hands with us.
Whether your case is big or small, we will fight hard to seek justice. We understand how devastating it is to be injured, unable to work, and worried about paying your medical bills. We want to relieve that burden by handling all the legal aspects of your case for you. You can depend on our personal injury lawyers to be by your side every step of the way. If you or your loved one suffered injuries because of the careless actions of someone else, call us at (850) 396-0237 today for a free consultation.
Personal Injury Cases We Handle
Panama City has many residents and travelers passing through or staying for vacation. With constant activity here, injury accidents happen frequently. There are a variety of claims that could be brought by individuals who are hurt through no fault of their own. Whether you sustained minor injuries in an auto accident or life-threatening injuries from a dog bite, we can handle it. The personal injury cases we take on for our clients include:
We have recovered millions of dollars for the victims of accidents and neglect. We never back down from a fight. Our Panama City personal injury lawyers know how to prove an individual should be held responsible for the injuries you or your loved one sustained.
Should I Handle a Personal Injury Case On My Own?
Many injured victims will try to handle their cases themselves. That can be an exasperating road to navigate if you're unfamiliar with insurance claims and Florida's laws and statutes regarding personal injury. Most insurance companies will take advantage of someone who hasn't sought legal representation. They will use that to their advantage to try to pressure you into accepting a lowball settlement offer. If you don't know the maximum compensation available, you might want to agree to the first offer you receive.
Depending on the accident you were involved in, you might be able to seek compensation from the negligent party's insurance company as well as your insurance. In auto accidents, you can file a claim with your UM carrier and the other driver's BI carrier. When it comes to premises liability, you can recover a settlement from the entity's liability carrier, and the individual who caused your injuries. There are many sources you can file a claim against, and knowing how to do it is critical.
How Does An Insurance Claim Work?
When you hire   The Bruner Law Firm, we will walk you through the insurance claims process, so you understand what your rights are. After your accident, we will file a claim with the negligent party's insurance carrier and launch a thorough investigation to review the details of your situation. We'll collect evidence to prove your injuries were a direct cause of the incident and that you deserve to receive compensation. Some of the vital evidence we'll obtain includes:
Police/incident reports
Witness statements
The negligent party's insurance policies
Video surveillance of the incident in question
Photos of the accident scene
Your medical records
During our investigation, you should undergo medical treatment. Medical records will show your injuries weren't present before the accident occurred, and you needed consistent treatment to recover. If you skip appointments or there's a significant gap in treatment, your claim could get denied, or you might not be able to recover the full compensation you deserve.
When your physician releases you from care, a demand letter will get sent to the insurance adjuster assigned to your claim. They will review it and all the evidence we found to determine if a settlement should be submitted. If we're unable to negotiate a fair settlement you're satisfied with, we'll file a lawsuit. Depending on the type of case we're working on for you, a suit could get brought against the insurance carrier and the at-fault individual or entity. We understand the need to close this chapter of your life as quickly as possible. Our Panama City personal injury lawyers commit their time and efforts to ensure your case doesn't drag out unnecessarily. We will use all the resources we have at our disposal to reach a favorable outcome promptly.
What is My Case Worth?
The amount of money you can demand from an insurance adjuster depends on the limits of liability in the responsible party's insurance policy, the severity of your injuries, and the damages you've suffered. Damages intend to make an injured person whole after an accident. They're the losses you've incurred as a direct result of your injuries. The damages you can seek compensation for include:
Medical Expenses: All bills for treatment deemed medically necessary, such as hospital visits, ambulance services, physical therapy, assistive medical devices, home health care, surgery, and prescription medicine.
Lost Wages: Pay you were unable to earn because of your injuries. If your injuries are permanent, you may be able to seek compensation for any future wages you will miss out on making.
Pain and Suffering: Any significant physical pain and suffering you have had to endure because of someone else's reckless decisions.
Emotional Distress: Psychological and emotional trauma you've experienced from the incident. That includes stress, shock, fear, or a diagnosis of PTSD, anxiety, or depression.
Loss of Consortium: If an immediate family member's relationship is negatively affected by the victim's injuries, compensation may get awarded as a result.
Wrongful Death: If the individual hurt in the accident passes away, their loved ones can file a claim to recover a monetary reward for expenses, such as funeral and burial costs.
It doesn't matter if your injury is minor. You can still file a claim to recover compensation for any costs you've incurred. Any amount of medical bills you receive can cause overwhelming feelings of stress. We want to relieve your financial burden so you can focus on healing and moving forward with your life. When you hire us, we will be there to provide the emotional support you need to help you through this challenging situation. No one should have to pay out of their pocket when another person caused their injuries. We can help you receive the payment you desperately need to cover your damages.
Call the Panama City Personal Injury Lawyers at The Bruner Law Firm
We don't believe in adding to the financial burden our clients face. That's why we offer free consultations to anyone thinking about retaining an attorney. There's absolutely no risk or obligation to speak with us. We'll schedule an appointment so you're able to discuss your case and receive legal advice about how you should move forward. We won't pressure you into making any decisions you're not ready to make. We'll tell you what your options are and help guide you towards the best path to take.
We know law firms are an intimidating place. We strive to make the environment at our offices as welcoming and comfortable as possible. Whenever you speak to our Panama City personal injury lawyers, paralegals, or support staff, you will talk with someone knowledgeable and compassionate. We treat our clients like they're family. We will always treat you with respect and professionalism, no matter what. We take tremendous pride in the way we interact with everyone who walks through our doors and the results we're able to achieve for them.
If you or your loved one experienced any injuries because of another individual's negligence, call us today. We'll be happy to review all the details of your accident and determine if it's something we can handle. We know you'll be satisfied with the services we offer. We have offices conveniently located in Panama City and Fort Walton Beach. Call us at (850) 769-9292 right now so we can get you scheduled for your free consultation.
Featured Attorneys
Vince Bruner has lived in Okaloosa County his entire life and has been taking cases in Fort Walton Beach and Panama City since 1988. He is a former state senator who represented District 3 for a four-year term. His longtime dedication to accident victims in the area shines through in the results he gets for his clients. Click below to see real cases we've won, or call the Bruner Law Firm at (850) 769-9292 to learn more about how we can put our experience to work for you.
---
GET YOUR FREE
CASE EVALUATION