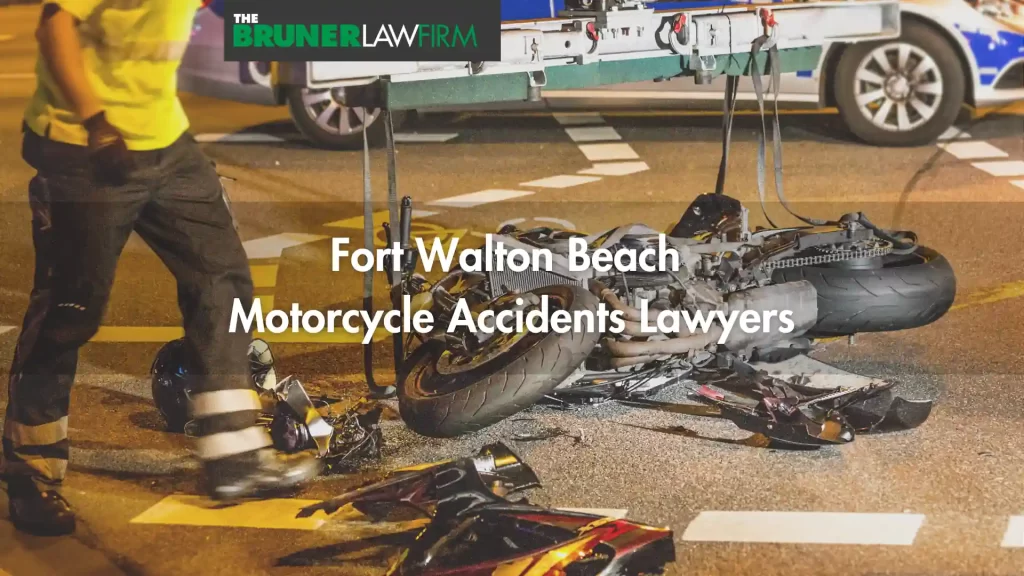 If you have been injured in a motorcycle accident, contact the Fort Walton Beach motorcycle accident lawyers from The Bruner Law Firm today to get the help you need. Motorcyclists are at heightened risk of injury because they are completely exposed. Motorcyclists have as much right to the road as any other vehicle, and riders deserve the same level of respect and care as any other motorist. Unfortunately, they don't always get it. That's why accidents injure around 88,000 motorcyclists and kill another 5,000 every year. Though just 3% of registered vehicles are motorcycles, motorcyclists account for 14% of traffic deaths.
Did someone else's negligence cause a motorcycle accident that injured you? Then, they owe you compensation for your medical bills, property damage, and more. An experienced Fort Walton Beach motorcycle accident attorney can help you demand it.
The Bruner Law Firm is ready to stand up for your rights and pursue the money you deserve. Our attorneys are tough on negligent drivers who cause accidents. Contact us today, and let us get to work on your case immediately.
Do I Need a Personal Injury Lawyer?
There are a number of expenses associated with a motorcycle accident. Medical bills, lost wages, and rehabilitation costs can add up to tens of thousands of dollars or more. You could end up paying these out of your pocket if you don't receive financial compensation. Furthermore, dealing with insurance companies can be incredibly difficult. They will do anything possible to take advantage of injured victims and pay you as little as they can. Fortunately, you don't have to take them on alone.
A personal injury lawyer can deal with insurance adjusters and other attorneys so you don't have to. They represent you when you can't stand up and fight yourself. The team at The Bruner Law Firm can:
Investigate the crash
Determine liable parties
Calculate what they owe you
Negotiate with insurers for a fair settlement
Go to court if the insurance companies won't play fair
Moreover, we will keep you informed and involved throughout the entire process so that you never feel out of the loop.
Why Choose Us?
At The Bruner Law Firm, we will always make sure that your interests are the number one priority. Our team of Fort Walton Beach attorneys has made a promise to do everything we can to represent you. We have built a reputation on that promise for over 25 years. Our attorneys use every available resource to determine the cause of the accident and who was at fault. We won't rest until you recover the financial compensation you need to pay for every expense.
As our neighbor, you deserve respect and professionalism throughout the legal process. Call The Bruner Law Firm today at (850) 243-2222 and schedule a consultation.
Common Causes of Motorcycle Accidents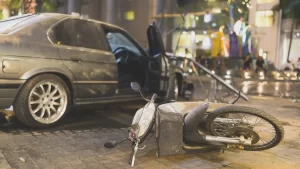 Your safety should not be at risk just because you are riding a motorcycle. Even if you properly operate your motorcycle and obey traffic laws, a careless driver can still put you in danger. Drivers should treat motorcycles like any other motorized vehicle on the road, yet car and truck drivers often behave carelessly around bikers. The size of their vehicle can also make the crash more impactful for you, despite it being their fault. Dangerous behaviors of car and truck drivers are common causes of motorcycle accidents, especially when the following negligent actions are at play:
Switching lanes into you
Turning left in front of you
Failing to yield to you at junctions
Hitting you from behind
Opening car doors into oncoming traffic
Speeding around you
Damages a Motorcycle Accident Lawyer Can Help You Receive
A driver's recklessness should not result in injury to you, and when it does, you need to be ready to fight back. At The Bruner Law Firm, we will work with you to get the compensation you deserve for your suffering. We may be able to help you recover damages for:
Medical expenses
Property damage
Physical therapy
Lost wages
Pain and suffering
Wrongful death
The lawyers at The Bruner Law Firm will work with you to determine how to recover the maximum possible compensation for your particular accident. The amount will vary depending on the details of your case, so it's important to speak with a lawyer right away.
Contact a Fort Walton Beach Motorcycle Accident Attorney
If you have been injured in a motorcycle accident, you deserve restitution. You have a right to ride safely on the road. At The Bruner Law Firm, our skillful motorcycle accident lawyers know your rights. We are tough on drivers who cause accidents and will work tirelessly to get you the full amount of money you deserve. Contact us at (850) 243-2222 to speak with one of our injury attorneys today.
Related Posts: