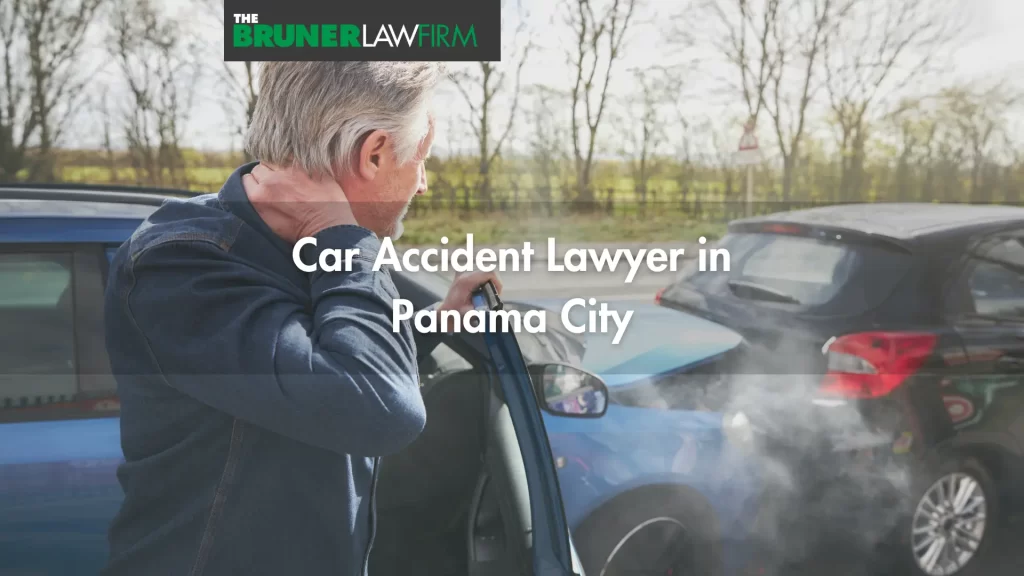 Were you hurt in a car accident in Panama City? If so, turn to the law firm that so many others have trusted to get them justice and full compensation. Turn to The Bruner Law Firm for help right away.
A car accident that results in an injury to you or those close to you could be devastating. Despite being a safe and responsible driver, you could cross paths with someone who dangerously ignores traffic laws or drivers. When you've become injured because of someone else's reckless actions, the feeling is overwhelming. You're trying to recover, unable to work, and worried about how you're going to pay your medical bills. No one should have to go through something like that on his or her own. At The Bruner Law Firm, we dedicate ourselves to providing unmatched legal services to our clients. You can depend on us to advise you on your options and guide you through this complicated process.
All of our attorneys, paralegals, and support staff have the knowledge and skills to fight for you and ensure you receive the financial compensation you deserve. Whether the injuries from your auto accident were minor or life-threatening, we will make you a priority. Everyone you work with on our team will treat you like family. We believe in open communication throughout our clients' cases. You'll never have to wait long to receive a callback or get the status of your claim. We take pride in the unmatched customer service we provide for everyone who talks to us. Our team of professionals is available 24/7, so you can reach us when it's most convenient for you.
Since opening our firm over 25 years ago, we've recovered millions of dollars for car accident victims. Our goal is to reach a favorable outcome in your case promptly. We don't believe in dragging out the process for months or years. We understand your need to put this time in your life behind you as quickly as possible so you can move forward. Our team works diligently on every case that crosses their desks to ensure we get results. If you want to schedule a free consultation with an experienced Panama City car accident lawyer, call us at (850) 769-9292 today.
Common Causes of Panama City Car Accidents
At the The Bruner Law Firm, we know even the safest driver could become the victim of a car accident. Despite taking the necessary precautions, you could end up with severe injuries because of someone else's negligence on the road. The roads in Panama City are traveled every day by residents on their way to work or tourists looking to spend a day at the beach. Wherever you look, you see congested roadways with individuals going about their lives. The most common causes of auto accidents in Panama City include:
If an individual's careless behavior caused your injuries, they should suffer the consequences. We understand the financial burden you face. Medical expenses can reach six figures, and if you don't have medical insurance, you might wonder how you're going to afford to pay. Florida laws state the settlement you might recover from the other motorist involved.
How Much Can I Recover From My Injury Claim?
Florida is considered a no-fault state. That means you're able to file an insurance claim with the other driver's insurance carrier without the need to prove they caused your auto accident. Florida law requires all drivers to carry auto insurance with minimum bodily injury limits. Those limits could cover an injured motorist's damages. Damages are all losses incurred as a direct result of the collision. These damages are typically from the medical care you undergo to heal your physical and emotional wounds. The damages you could seek compensation for include the following:
Medical Expenses: All medical treatment that is medically necessary to your recovery, including ambulance services, ER visits, surgeries, physical therapy, hospital stays, and home health care.
Lost Wages: Salary, commissions, promotions, advancement, paid time off, bonuses, and anything else you couldn't earn because of your injuries.
Emotional Distress: Psychological or emotional trauma you suffered after your crash that affected your regular schedule and overall happiness.
Pain and Suffering: Significant physical pain that prevented you from performing routine tasks.
Loss of Consortium: An individual's immediate family member might be eligible for compensation if their relationship with the victim was negatively impacted after the incident occurred.
Wrongful Death: If the victim of a car accident dies, their loved ones could seek compensation for necessary expenses, such as funeral or burial costs.
Florida also allows you to seek compensation from your auto insurance carrier. UM coverage, or uninsured/underinsured, is used if the responsible party doesn't have insurance or their limits don't cover the cost of your losses. Additionally, PIP coverage, which is Personal Injury Protection, is used up to the limit you purchased on your policy to pay medical providers directly for your appointments. Instead of going through your medical insurance, which you could owe payment to when your claim gets resolved, your insurance carrier will pay the cost of treatment upfront. If you rejected UM or PIP coverage when you signed up for auto insurance, you would have to rely solely on the at-fault driver's bodily injury limits.
Your Panama City car accident lawyer at The Bruner Law Firm knows how to negotiate with insurance companies and, when necessary, bring your case to court. We've worked on countless car accident cases just like yours. We use all the resources at our disposal to recover the maximum settlement available for you. We never back down from a fight. You can count on us to seek the justice you deserve so you can focus on your recovery.
Should I Hire a Panama City Car Accident Lawyer?
If you're unfamiliar with the insurance claims process, handling it yourself might not be the best option. You won't know the compensation you're eligible for and what expenses insurance could cover. Insurance companies will look for any reason to not have to pay you or offer you a settlement that is much lower than you should receive. We know how to comb through confusing auto insurance policies to find the information we need and calculate the amount of money that will cover your expenses. With an attorney by your side, you can feel confident knowing you will receive fair treatment.
Your Panama City auto accident lawyer will launch a thorough investigation into your accident to gather the necessary evidence. The evidence we find will prove your injuries happened because of the other person's actions instead of a pre-existing condition. The vital evidence we'll obtain includes:
Police reports
The negligent driver's and your insurance policies
Witness statements
Video surveillance of the incident
Photos of the accident scene
Pictures of your injuries
Your medical records and medical bills
While we're performing our investigation, you must undergo treatment. Your initial consultation after the crash will determine if you need X-rays, surgery, or an evaluation by a specialty doctor, such as a neurologist or chiropractor. You should always follow your doctors' instructions and visit any specialty physician they recommend. If there's a gap in your treatment or you skip appointments, the insurance company will use that to deny your claim on the basis that your injuries don't seem serious.
Negotiating with insurance companies is a complicated process when you don't have experience. The insurance adjuster will require all the evidence we found, copies of your medical records, and anything else they believe they need to determine how much money they're willing to offer. If we're unable to negotiate a settlement that's acceptable to you, we are fully prepared to take your case to trial. We will file a lawsuit against the insurance company and possibly the other motorist for a financial reward. Filing suit could potentially give you a higher reward than in an insurance claim since seeking payment from the actual driver would be at stake.
Injured in a Car Accident? Call The Bruner Law Firm Today
We offer all of our prospective clients a free consultation. There's no risk or obligation to speak with a Panama City injury lawyer about your situation. We will be happy to set up an appointment to review the details of your auto accident and determine your best options moving forward. We will provide the legal advice you need to help you make the decision that is most beneficial for you.
Our mission is to make sure insurance companies don't take advantage of our clients. We'll explain the legal process in detail, so you understand what to expect and how much your claim is worth. We will handle the complicated steps ourselves, so you're able to dedicate your time to healing your physical and emotional injuries. You won't be on your own throughout this situation. Our firm is available to take your call at any time of the day to answer your questions. We will be there to support you from beginning to the end of your case.
Call The Bruner Law Firm at (850) 769-9292 if you or your loved one were the victim of a car accident. We'll schedule you for your free consultation with one of our qualified attorneys immediately. We proudly serve clients throughout the Panama City and Fort Walton Beach areas.