Motorcycle Accident Lawyer in Niceville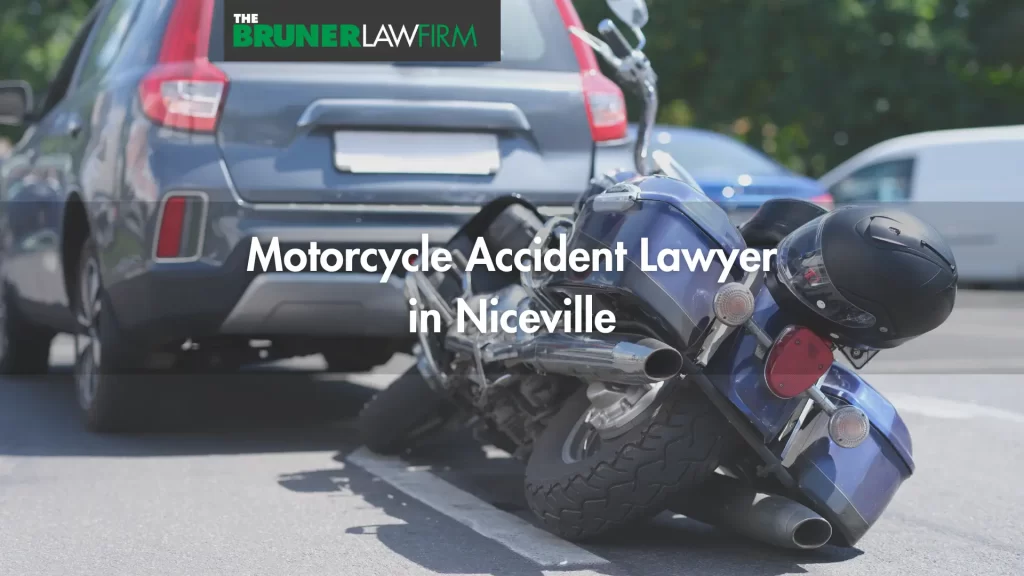 Suffering injuries in a motorcycle accident is among the most traumatic events an individual can experience, but a Niceville motorcycle accident lawyer can help you reclaim control of your life. By working with an attorney to file a motorcycle crash claim, you can recover compensation for medical bills, lost income due to missed time at work, and other injury-related losses. The experienced Northwest Florida legal team at The Bruner Law Firm has helped many injured motorcyclists secure the justice they deserve, and we are ready to get to work for you. Call us today at (850) 605-0672 or contact us online for a free case evaluation to learn more about how we can help you.
How Do You Know If You Have a Case?
Even if you feel confident that another party caused the accident that led to your injuries, you may be unsure whether you are eligible to file a claim. Asking yourself the following questions can help you understand whether your case meets the criteria for a successful motorcycle accident claim in Niceville:
Were You Seriously Injured?
Due to the vulnerability of motorcyclists, motorcycle accidents often lead to severe bodily harm. The more consequential your injuries, the more likely you are to qualify for substantial compensation. Examples of significant motorcycle accident injuries include the following:
Traumatic brain injuries
Spinal cord injuries
Burn injuries
Organ damage and internal bleeding
Broken bones
Loss of limbs and amputation injuries
Did You Seek Medical Attention?
Seeking medical attention is one of the most crucial steps to take after a motorcycle accident. The reason for this is twofold. First, receiving an early medical examination can detect hidden injuries, improving your recovery chances. Second, seeing a doctor soon after a motorcycle crash can create a verifiable link between the accident and your injuries. If you wait too long, the insurer or the at-fault party's attorney can argue that your injuries occurred in an unrelated incident.
Did Your Case Happen Within the Last Two Years?
According to Florida Statutes, anyone who has suffered a personal injury, such as in a motorcycle accident, has only two years from the injury date to initiate legal action. If you miss this deadline, you may forfeit your opportunity to recover the compensation you deserve.
How Much Is Your Motorcycle Accident Case Worth?
Every motorcycle accident case is different. Factors such as the severity of the crash, the nature of your injuries, and the actions of the at-fault party can affect the amount of money you can seek in your claim. Depending on the circumstances of the accident, you may be eligible to recover compensation for:
Medical expenses
Lost income from missed time at work
Reduced earning capacity in cases of disability or disfigurement
Physical and psychological pain and suffering
Punitive damages in particularly flagrant or reckless cases
Wrongful death
The team at The Bruner Law Firm recently recovered a $495,000 award for motorcycle accident victims in the Panhandle. Along with other results, this indicates the success our attorneys are capable of achieving on behalf of our clients.
How Can The Bruner Law Firm Help with Your Case?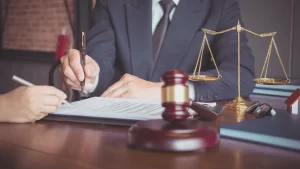 When choosing an attorney to represent you in your motorcycle accident case, you should look for someone with experience, skills, and knowledge of the highest caliber. The Niceville attorneys at The Bruner Law Firm have been helping injured individuals recover the compensation they deserve since 1992. Our lawyers have won multiple awards and received the highest levels of recognition from our peers.
The Bruner Law Firm has the resources to thoroughly investigate the accident that led to your injuries to determine who was at fault. In addition to the other driver, potential at-fault parties may include:
Government entities if poor road or infrastructure conditions contributed to the crash
Vehicle or parts manufacturers if faulty equipment led to the accident
In cases of drunk driving, a bar or restaurant that served alcohol to an already impaired individual
We will evaluate all evidence that can demonstrate fault, including:
The police report – We can dispute mistakes if necessary.
Video surveillance footage – In some cases, a subpoena may be necessary to attain the footage.
Expert statements – Accident reconstructionists and medical experts can provide vital insights into which party was at fault.
Once we have identified all at-fault parties, we will negotiate aggressively with insurance companies for a fair settlement. If the insurer fails to offer you the compensation you need, or if the driver lacks insurance, we will not hesitate to take the at-fault party to court.
Next Steps
The aftermath of a motorcycle accident can be a time of overwhelming anxiety, pain, and uncertainty. Many injured motorcyclists do not know where to turn. However, a few simple actions can allow you to secure the favorable outcome you deserve. If you or a loved one has suffered injuries in a motorcycle accident caused by another party's negligence, taking the following steps can help build a solid compensation claim:
Write down your memories of how the accident happened while they are still fresh. Include every detail you can recall.
Avoid posting about the accident on social media, as insurance companies can use this against you.
Keep records of all accident-related costs like medical bills, lost wages from missed work, property damage repair invoices, etc. These documents and figures will help determine the compensation amount.
Contact our office for a free consultation. We will evaluate your case at no cost or obligation to see if you have grounds for a claim. Our attorneys work on a contingency fee basis. In other words, you pay nothing upfront, and we only collect a fee if we obtain compensation for you. There is no risk in contacting us to discuss your case.
With decades of motorcycle accident experience, our legal team can guide you through the claims process while you focus on recovery. The Bruner Law Firm Niceville office is located at the intersection of East John Sims Parkway and Partin Drive South, just a stone's throw away from Niceville High Stadium. Come visit us, call (850) 605-0672, or fill out our online contact form to get started.