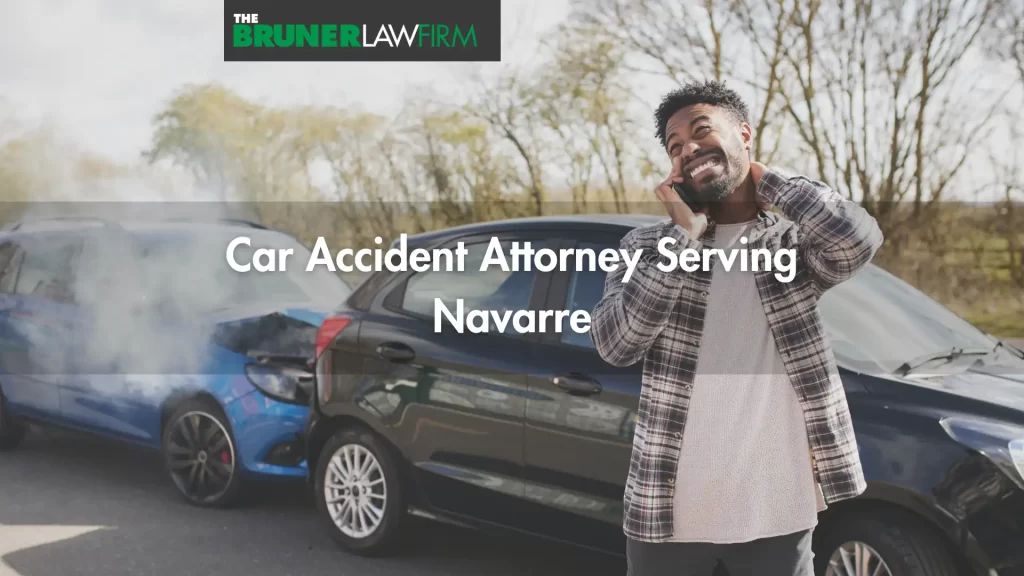 If you were injured in a car accident caused by another driver, the Navarre personal injury attorneys at The Bruner Law Firm can help you recover the full compensation you deserve to cover your medical expenses, lost wages, vehicle damages, and more. Our award-winning and well-respected attorneys will guide you through each step of the legal process, so you can focus on your recovery.
Florida ranks in the top 20 most dangerous states for car accidents, according to a news outlet that compiled data from the National Highway Traffic Safety Administration. Numbers from the Florida Highway Safety and Motor Vehicles department show that in 2018, there were 403,626 car accidents leading to 3,000 deaths and hundreds of thousands of injuries.
Serious car accidents can harm both your physical and mental health. Car accidents can also lead to financial instability and debt as medical bills pour in and time missed from work leads to fewer paychecks.
A negligent or reckless driver shouldn't be able to get away with turning your entire life upside down. At The Bruner Law Firm, we help victims of serious car accidents hold negligent drivers accountable while fighting to get them the financial award they are entitled to.
For a free case evaluation and information on how we can help you, contact The Bruner Law Firm at (850) 243-2222 today.
Why Choose The Bruner Law Firm to Handle Your Navarre Car Accident
At The Bruner Law Firm, we pride ourselves on taking the time to listen to potential clients. We inform them about their legal rights, their options for recovering compensation, and how our decades of legal experience can work in their favor after a serious car accident.
The legal team at The Bruner Law Firm is well-versed in handling car accident cases. Our attorneys have the background and training it takes to hold negligent drivers accountable for their actions.
The first thing we'll do when we start working on your case is to conduct a thorough investigation of your accident. We'll gather evidence to help prove fault in your case and show the extent of your injuries. For example, we may gather medical records, footage from surveillance cameras, witness testimony, and statements from experts witnesses, such as health experts and accident reconstruction specialists.
We'll additionally handle all of the communication with the insurance company to protect you from making statements that the insurer may try to use against you. Our attorneys will also negotiate aggressively and skillfully with the insurance company to secure the maximum compensation package.
If the insurance adjuster fails to offer you the comprehensive financial reward that you're due, we'll be fully prepared to take your case to court to protect your rights. We are passionate about achieving justice on behalf of our clients.
When a reckless or negligent driver causes an accident, victims know they can turn to us for help and sound legal advice. We also understand the financial strain that a serious car accident can place on victims and their families. That's why we offer a free initial consultation to review the circumstances of your case. We work on a contingency-fee-basis, meaning we don't collect money upfront for taking on your case.
When you need legal assistance, turn to the firm that cares about you and your well-being. Turn to The Bruner Law Firm, the firm that locals trust.
Types of Car Accident Cases We Handle
Every car accident has its own unique set of circumstances, such as the severity of a victim's injuries, the extent of the property damage, and the type of accident that occurred. Examining the details of a car accident is crucial to helping our clients claim full and fair compensation.
At The Bruner Law Firm, our attorneys have extensive experience handling a variety of car accident claims. Some of the cases we handle include:
Speeding accidents
Distracted driving
Drowsy driving
Reckless driving
Driving under the influence of alcohol and/or drugs
Hazardous road condition accidents
Disregarding or disobeying traffic laws
Accidents caused by mechanical or manufacturing defects
If you or a loved one has been involved in any significant accident with an impaired, negligent, or reckless driver, contact The Bruner Law Firm immediately. We can review your situation, assess the circumstances of your accident, and offer legal advice on the best options for your case.
Florida Laws Can Impact Car Accident Claims
Many Florida drivers are unaware of how Florida laws impact a car accident claim until they're involved in an accident themselves. This is because Florida is one of the few states that follows a "no-fault" model for car accident claims.
The no-fault system stipulates that drivers must turn to their own insurance for compensation, no matter which party is responsible for an accident. This is called personal injury protection, or PIP coverage. PIP coverage can compensate victims for their medical expenses, a portion of lost wages, and certain at-home services that may be needed, but it will not cover compensation for pain and suffering.
While drivers are supposed to turn first to their own insurance coverage for compensation after an accident, the law allows drivers to hold others accountable in specific circumstances. If a victim suffers "serious injuries" from an accident with a negligent driver, they may be allowed to pursue a claim with the other driver's insurance company or hold the driver accountable in court.
In Florida, there's a framework that defines whether an injury meets the legal definitions of "serious." You must prove that the accident caused at least one of the following:
Substantial disfigurement
Serious bone fracture
Significant limitation of a body function
Permanent limitation of a body part or internal organ
Full disability for 90 days
Understanding your options for compensation in Florida can be challenging. Consulting with an experienced attorney is the best way to learn more about your legal rights and what course of action is best suited to the specifics of your case.
Florida accident victims should also be aware of the statute of limitations for car accident injury cases in their state. The statute of limitations is the time limit you have to file your lawsuit in the state's civil courts. In Florida, you have four years from the date of the accident to file your lawsuit in court. If you miss this deadline, you will almost certainly lose your right to seek compensation in the court of law.
There are certain factors that may extend the time limit, such as if you discover your injury well after the accident that caused it. This may be the case with certain types of head injuries, for example. Likewise, there are factors that may shorten your time limit to file a lawsuit. This may happen when the at-fault party is a government entity that has specific filing requirements.
Either way, it's important that you discuss your case with a qualified, knowledgeable attorney as soon as possible following your accident. This will ensure that you make all of the deadlines in your case and have the added benefit of allowing your attorneys to collect evidence before it disappears.
Compensation You Could Receive
When you're injured in an accident caused by another, negligent driver, you may be entitled to different types of compensation under Florida law. If the injuries you suffered in the accident qualify as serious, you may be able to seek recovery for the following:
Medical bills
Rehabilitation services
Property damage repair or replacement
Lost income
Lost earning capacity
Pain and suffering
Mental anguish
It's also important to know that Florida has a "pure comparative fault" rule, which may impact how much compensation an accident victim can recover. Under the pure comparative fault model, the compensation you receive may be reduced by the percentage of fault assigned to you in your accident.
For example, if it's determined that you're 20 percent to blame for the accident, you're entitled to the full amount of damages minus 20 percent. If the total damages are $100,000, you can collect $80,000. In a pure comparative fault model, that also means that the driver responsible for 80 percent of the accident is also entitled to damages.
Contacting an accident attorney after an accident is a wise decision because they have the resources to investigate the circumstances of your accident to prove that the other party was at-fault in your accident. Their investigation can turn up evidence that could support your injury claim and help ensure that you get full and fair compensation for your injuries.
Contact an Experienced Navarre Car Accident Attorney Today
Surviving a serious car accident is traumatic enough. You don't need to take on the stress of managing a complex injury claim by yourself. The experienced attorneys with The Bruner Law Firm are ready to fight to secure the full and fair settlement you're due. Whether at the negotiating table or in the courtroom, we know what it takes to get the job done and hold negligent drivers accountable for their actions.
If you were injured in a car accident, contact The Bruner Law Firm to discuss the legal options that are available to you. Call (850) 243-2222 for your free, no-obligation consultation today.