Santa Rosa Beach Bicycle Accident Lawyer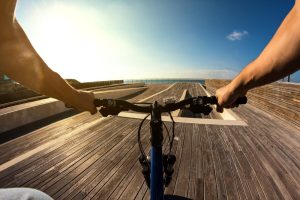 If you were hurt in a bicycle accident that someone else caused, call The Bruner Law Firm right now to learn about your available options. We might be able to represent you in a case against the negligent driver and hold them liable for their actions.
Bicyclists are at a higher risk of injury and death in accidents with motor vehicles. They don't have the protection of an enclosed vehicle, airbag, or seatbelt. Their bodies suffer the violent impact of a crash and are vulnerable to flying debris and shards of glass.
At The Bruner Law Firm, we understand the trauma of getting hurt in a bicycle accident. Injuries are often severe and debilitating. You can depend on us to aggressively pursue legal action against the negligent motorist and fight for the compensation you deserve. Call us at (850) 608-8715 today for your free consultation with a dedicated Santa Rosa Beach personal injury lawyer.
Common Types of Bicycle Accidents
Bicycle accidents result from a range of contributing factors. The most common types of bike accidents include:
Backing up accidents – A driver can hit a cyclist riding past their car if they back up without checking behind them.
Sideswipe collisions – A motorist might sideswipe a bicyclist traveling next to them if they drift into the bike lane.
Dooring accidents – Drivers must look for approaching bike riders after parking. They can open their door in the path of a bicyclist if they ignore the people around them.
Rear-end accidents – Sometimes, bicyclists must share the road with motor vehicles when they don't have access to a bicycle lane. An impatient driver might tailgate the rider, leaving little room to slow down or stop when necessary to avoid a collision.
Left-turn accidents – Motorists must slow down or stop for oncoming traffic before completing a left-hand turn. A driver can end up in a bicyclist's path if they proceed without looking first.
The Bruner Law Firm knows how to investigate bicycle accident cases in Florida. We use our knowledge of state laws and apply them to the unique circumstances of a client's case. We have a proven track record of achieving positive results for our clients.
Common Causes of Bicycle Accidents
A bicycle accident can occur for numerous reasons. Driver error often plays a part. The most common causes of bike accidents include:
Tailgating
Distracted driving
Failing to yield the right of way
Driving under the influence
Speeding
Fatigued driving
Ignoring traffic signs and signals
Do not hesitate to contact a Santa Rosa Beach bicycle accident lawyer from The Bruner Law Firm regardless of the cause of the crash. We can review all relevant factors and determine who is at fault. Our legal team will start creating a strategy to hold the negligent party accountable for harming you.
Injuries in Bicycle Accidents
Bicyclists can sustain life-threatening injuries. Even low-speed crashes can cause injuries requiring medical care. The most common injuries in bicycle accidents include:
Road rash
Paralysis
Facial injuries
Dental injuries
Internal bleeding
Concussion or traumatic brain injury
Broken bones
Loss of limb
Disfigurement or scarring
Spinal cord injury
Lacerations
Pelvic injuries
Nerve damage
Torn ligaments and tendons
Hip fractures
Bicyclists often need months of treatment to recover from an accident. Severe injuries can have long-lasting consequences and interfere with a person's physical or mental abilities.
Psychological trauma is another problem that can affect every aspect of someone's life. Anxiety, depression, and post-traumatic stress disorder (PTSD) can develop after experiencing a scary event like a bicycle accident.
Many bicycle accidents are fatal. According to the National Highway Traffic Safety Administration, 938 bicyclists died in traffic-related crashes in a recent year.
Compensation for Bicycle Accidents
Personal injury protection (PIP) insurance is mandatory in Florida. Every driver must purchase a minimum of $10,000 each in coverage for property damage liability and PIP.
PIP pays 60% of the policyholder's lost wages and 80% of all necessary and reasonable medical expenses up to the limit on the policy. However, bicyclists often require medical care exceeding the amount of insurance coverage.
You can file a claim with the at-fault driver's liability insurance carrier, but only if you meet the serious injury threshold. The serious injury threshold is an injury consisting in whole or part of:
Permanent injury within a reasonable degree of medical probability except for scarring or disfigurement
Permanent and significant loss of an essential bodily function
Significant and permanent scarring or disfigurement
Death
Whether you file a liability claim or personal injury lawsuit, you might receive compensation for your:
Pain and suffering
Lost wages
Lost earning capacity
Hospitalization, surgical costs, physical therapy, and other medical treatment
Out-of-pocket expenses
Emotional distress
Loss of enjoyment of life
Damage to personal property
In a lawsuit, you can also recover punitive damages. This financial award punishes the defendant for their actions and deters similar future behavior. A jury or judge might award this to you if you provide clear and convincing evidence of the at-fault party's intentional misconduct or gross negligence.
Statute of Limitations for Bicycle Accidents
You must follow state law if you want to sue the negligent driver for your injury. In Florida, the statute of limitations for bike accidents allows a four-year timeframe to file a lawsuit. That means you have four years from the crash date to initiate your lawsuit in court. Once four years pass, you will likely lose your right to compensation.
Contact an Experienced Santa Rosa Beach Bicycle Accident Lawyer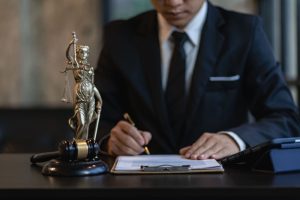 Since 1992, The Bruner Law Firm has represented injured clients suffering from the wrongdoing of others. We believe in protecting accident victims' rights and holding people accountable for the suffering they cause.
We're available 24/7, so you can reach us when you need us the most. We provide open and honest communication, so our clients stay updated on their cases and know what to expect during the complicated legal process.
If you sustained injuries in a bicycle accident due to someone else's negligence, call The Bruner Law Firm at (850) 608-8715 for your free consultation. Let us be your advocate and seek the justice you deserve.
Related Posts: