Experience Matters In Personal Injury Cases
Since 1992 The Bruner Law Firm has worked solely as Plaintiff's personal injury lawyers, dedicated to assisting accident victims in Fort Walton Beach, Panama City, Niceville, South Walton, Santa Rosa Beach and throughout the entire Florida Panhandle. Vince Bruner's education, legal experience, and service as a Florida State Senator built the foundation of Bruner Law Firm's stellar reputation throughout the state. The Bruner family's familiarity with the places and people of Florida's Panhandle have uniquely enabled them to effectively represent injury victims over four decades. The Bruner Law Firm has maintained offices in both Panama City and Fort Walton Beach since 1988, and recently opened their newest offices in Niceville and Santa Rosa Beach. As one of Florida's storied legal families, Vince, Drew, Vince Jr., and Peggy Bruner tirelessly fight to protect Floridians who have been injured in car, truck, motorcycle, bicycle, pedestrian or boating accidents through no fault of their own.
LEARN MORE

About Personal Injury Cases
We Can Help
Following a serious accident, it is natural to have many questions and concerns, especially if the accident caused injury to you or a loved one. At The Bruner Law Firm, we're dedicated to helping accident victims cope with the sudden and numerous changes in their lives after suffering an injury. The consequences of a car accident, for example, may extend well beyond damage to your vehicle and may include extensive medical bills, missed work income, and long-term or permanent bodily harm. Our experienced Fort Walton Beach personal injury attorneys can assist you through a variety of legal matters, including:
Dedicated to Helping Accident Victims
At The Bruner Law Firm we remain dedicated to helping and assisting victims of personal injury, accidental injuries, wrongful death and the neglect of others. We are passionate about the work we do and we believe in perusing personal injury cases for our clients who feel legal action is required to achieve justice. These events can change lives forever; and unfortunately not for the better.
MILLIONS RECOVERED
FOR OUR PERSONAL INJURY CLIENTS
$3,150,000
recovered for a victim of a jet ski accident in Bay County.
$2,454,500
verdict for trucking highway accident victim in Bay County.
$2,007,184
verdict for industrial accident victim in the workplace, Gulf County.
$1,000,000
recovered for wrongful death recovery in Walton County.
$495,000
recovered for victims of a motorcycle accident in Bay County.
$479,864.04
verdict for auto accident victim in Walton County.
$445,000
recovered for auto accident victim in Bay County.
$355,000
recovered for auto accident victims in Walton County.
$325,000
for the victim of an automobile accident in Crestview, Florida.
$300,000
for the victim of a premises liability injury
$300,000
recovered for auto accident victim in Bay County.
$298,517.29
recovered for auto accident victims in Gulf County.
$295,000
recovered for premises liability victim of a gunshot wound in Okaloosa County.
$250,000
recovered for the victim of a DUI accident.
$250,000
recovered for a hit-and-run automobile accident victim in Santa Rosa County, Florida.
$200,000
recovered for auto accident victim in Okaloosa County.
$200,000
recovered for auto accident victim in Holmes County.
$200,000
Settlement for truck accident victim in Panama City
$195,000
recovered for auto accident victim in Okaloosa County.
$194,000
recovered for auto accident victim in Okaloosa County.
$175,000
recovered for dog bite victims in Okaloosa County.
$155,000
recovered for medical malpractice victim in Escambia County.
$100,000
recovered for assault victim in Walton County.
1,500,000
1.5 million for a wrongful death victim in Walton County, Florida.
375,000
for a car crash in Okaloosa County, FL.
VIEW ALL RESULTS
HAVE A QUESTION?
We have a proven track record of fighting for our clients through a wide variety of personal injury cases which allows our legal ability to speak through results.
Contact us today for your FREE case evaluation.
Featured Attorneys
Vince Bruner has lived in Okaloosa County his entire life and has been taking cases in Fort Walton Beach since 1988. He is a former state senator who represented District 3 for a four-year term. His longtime dedication to accident victims in the area shines through in the results he gets for his clients. Click below to see real cases we've won, or call the Bruner Law Firm at (850) 243-2222 to learn more about how we can put our experience to work for you.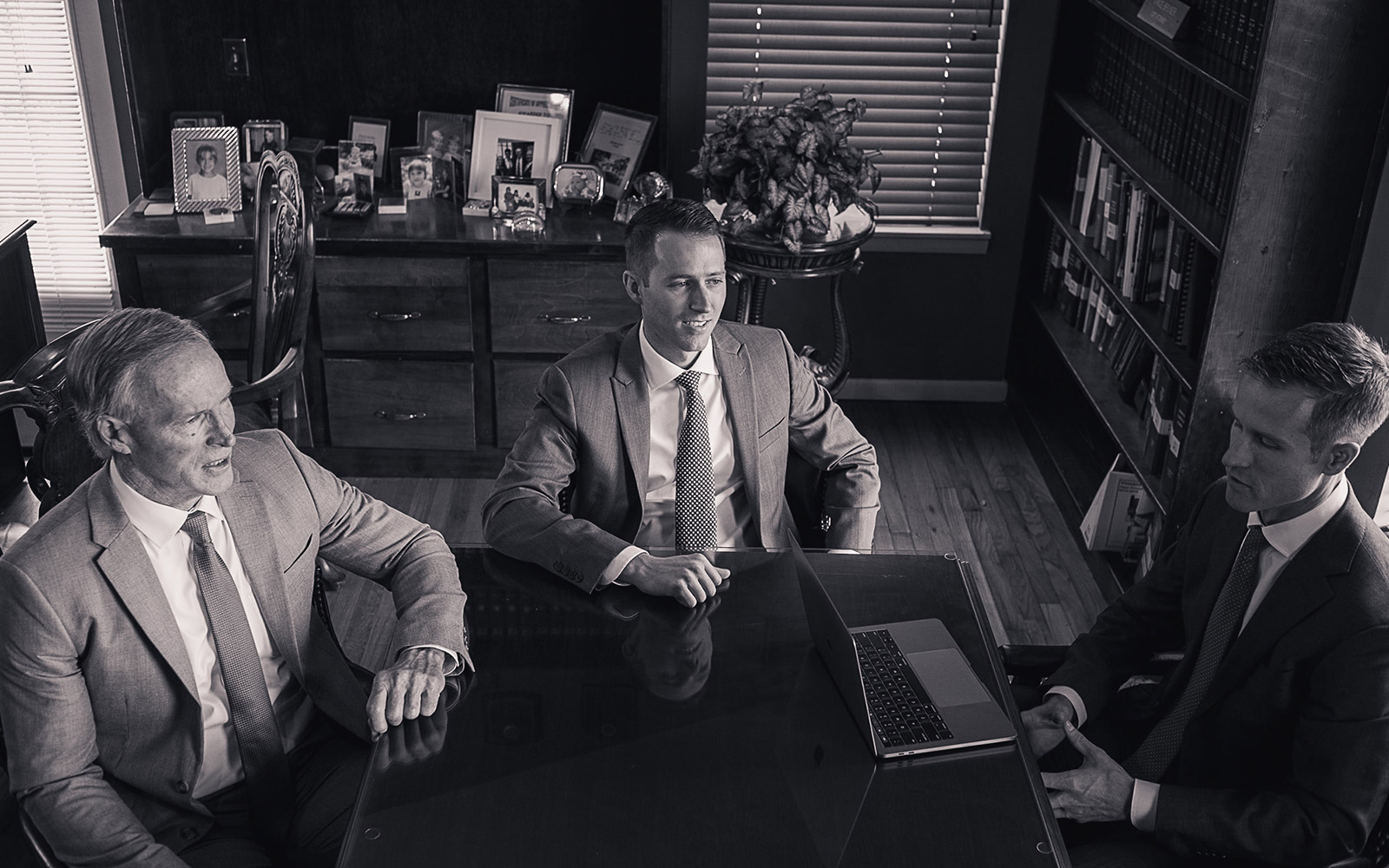 SEE WHAT OUR
CLIENTS HAVE TO SAY
Drew Bruner and his staff are absolutely top notch! They helped with EVERYTHING from day 1! They called with updates and genuinely cared about us and how we were doing! My husband and I highly recommend The Bruner Law Firm for your car accident litigation!!!
Drew, Kim and Kimberly, and the rest of the crew in Niceville and Ft Walton are the best! Very professional and there when needed to answer any questions as well as keeping me informed. Would highly recommend!
Drew and His staff are absolutely top notch! They made this process so smooth and took all our stress away! I highly recommend this law office for all of your car accident litigation needs! They really are the best around!
Super easy process, they kept me up to date on my case and did an excellent job. I will be back...well hopefully not but if I need someone, I'm turning to these guys again. Thanks again!
I love this law firm so much. They take such good care of you. Taylor, along with everyone else is a rock star. Everything I needed was given to me. They always kept their promises and was always honest.I can't recommend them enough. Thank you all so much for everything.
I couldn't recommend Bruner Law Firm enough. You can't go wrong with Drew and Tia, along with the rest of the staff at Bruner Law. Drew is a straight forward, down to earth person who has his clients best interest at heart and goes the extra mile. Tia is professional as well as friendly and helpful. She was more than willing to lend me an ear whenever I needed. Thank You all for Your hard work, I appreciate You.
Bruner Law Firm was amazing to work! They were able to help me through the process of an injury sustained from an auto accident and get the best settlement possible. I trusted them throughout the while process and felt they were looking out for me. I highly recommend contacting Bruner Law Firm if you need assistance after an auto accident.
I was rear ended and was a bit shaken up with my daughter, so I contacted Bruner Law Firm. This was my first time dealing with a personal injury attorney but I was please with the service. Kim was very helpful throughout the process, she keeps in touch regularly about the case and always ask about my little girl. Overall I appreciate the team at Bruner and the effort to settle my claim.
Bruner law firm has been amazing through this nightmare after getting rear ended last year. Taylor has been very informative and quick to respond to every question/ concern that I have had over the entire last year. Very pleased with every aspect of this situation.
Great group of people. They do everything within their means to provide you best legal service available. Joe went above and beyond helps us get maximum compensation for our case. I highly recommend their services should you need an attorney's assistance in your case.
Very very professional! Stayed in contact with me every step of the way! Even when deployed! Never thought the process was so easy! They did all the leg work and I signed a few documents and at the end we won! Highly recommend! I'm sad I could only give 5stars! They deserve 10!
Taylor was the ray of sunshine in this gloomy storm. I can't thank this firm enough for putting up with my grouchy needy self. They went above & beyond the call of their jobs for me, talked me off many ledges and settled my case and I couldn't be happier. I have always considered myself a really positive person, but this accident was really tough on me personally and professionally. Thankfully I had Taylor, Monica, Peggy and Joe there for me every step of they way…. If I could leave infinite amount of stars I would in heart beat. Don't think twice. This is the firm that will have your best interest at heart!!!!
I called The Bruner Law Firm when I was in my first accident in 2021 and then again shortly after my second accident. They took care of me, kept me in the loop and answered all of my questions when asked. They got my case wrapped up sooner than expected and I received a lot more than I expected as well. I will definitely recommend them to anyone who asks!
Drew, Taylor, and crew are very helpful! They answered everything and had no problems with a million phone calls from us. They kept us informed and really did all they could. We really appreciate all they did to help us get through our ordeal.
After being in a car accident I reached out to the Bruner Law Firm and in less than a year my case was won and I was very satisfied with the Bruner Firm. Anytime I called they took the time to answer.
I called not too long ago regarding pursuing a case and spoke with a great employee named Jaime who did a great job explaining the process to me and getting my details for steps moving forward. Would recommend!
Drew and staff were awesome! I'm new to this state bought a new car and unfortunately it was totaled before I even made the second car payment! Not a warm welcome to Florida. They worked hard a diligently to get the max compensation for settlement. They always responded or reached out to keep me updated on the status of my case! I highly recommend Bruner law! Thank you all so much! Cheers to hard work and moving forward!
Bruner law firm is hands down the best personal injury lawyer around! His friendly staff was also very helpful and informative. My case was settled in record time. I would and DO recommend this firm for all your personal injury claims.
Drew and Taylor worked great to get my case settled in a reasonable time. I will use them again if I ever need to in the future. They were very professional and curious.
Drew and his team were amazing to work with. From the day I walked into his office for the first time I knew I was in good hands. He helped us through a difficult time and made sure we were kept in the loop the entire time. I can not say enough about Drew and the team at Brunner Law Firm.
Emily, Taylor and Drew were tremendously helpful with all my questions. I am very satisfied with everything they accomplished.
The BEST Drew spends as much time as you need making sure all your questions are answered, always takes his client's calls too
Drew, Taylor and Bruner Law firm Thank you all for everything you have done. I am a satisfied customer and will refer you to other.
Highly recommended I had a wonderful, care free experience working with Bruner Law Firm. Drew was the best! He worked diligently on my case and he is an awesome person all around! Thank you again!
Taylor, Meghan and Drew did a awesome job with keeping me informed with my settlements thanks a lot to a great team work
Drew and the Bruner law firm were awesome from start to finish. Honest and always with our best interests at heart.
This place is the real deal!!! I don't know how many attorneys work there, but ask for Drew. He is a true professional. He is caring person and speaks in a language that one can understand, not all of the legal lawyer jargon B.S. He is a straight-shooter and does not sugar-coat anything. He personally returns phone calls very timely (within 24 hours). Quite simply, dealing with Bruner Law Firm was nothing short of a WOW experience!!! Awesome dude, awesome staff. What was especially most gratifying were the settlement dollars he got for my wife after her car accident. Thanks to Tia and Monica as well! Much love!
Amazing people. They took a terrible incident and made me feel at ease. I don't know what I would have done with out their help and professional guidance. I am truly grateful I chose Bruner law firm to take care of me this trying time in my life.
Awesome firm and great help. Drew was responsive, attentive, and aggressive with helping me resolve my case. I was in an terrible accident and he truly helped me when I need it most. Drew Bruner is friendly and understanding and truly cares for his clients. If you need help give him a call because he will definitely take care of you.
Drew and sherry helped me with my case. It was an easy process and I would use them again if I ever have to get another lawyer.
The team here at Bruner Law is exceptionally talented. I am so pleased with how well my injury case was handled. I had been recovering for some months and much thanks to Taylor and Monica I really felt like they were a big reason I felt reassured in capable hands as it all progressed. I wouldn't hesitate to contact the Bruner family after my experience, and if I have another incident I know I want all of them here to be the ones fighting for me as they definitely earned my trust and testimony. Huge thanks again Drew, Monica, Taylor :) it's been a pleasure!
Could not be happier with this firm. Taylor and Drew were top of the line in professionalism and friendliness. I will always recommend them to everyone who in need of an attorney!
Best Law firm across the Panhandle! If you are tired of working with bad lawyers that don't care about you or your case, then you NEED to reach out to The Bruner Law Firm. They are family owned and they really do care about their clients! I had a closed case with them, and months later they contacted me to let me know that they secured MORE settlement money for me! Who does that??? I have to say, they were and still are a blessing. Don't hesitate to call them!
Highly recommend Bruner Law Firm!! They are on top of everything and really work hard for you!! I'm so thankful I had them to help me through such a hard ,and stressful time!
Bruner Law Firm was not only masterful in handling my case, but they went above and beyond what I asked for in my settlement. If the Bruner Firm has a man like Joe Lancos, who handled my case, in their lineup, you can bet they will treat your case right and put in the A+ effort needed for you to have peace of mind. I highly recommend everyone use their services if they take your case, they are worth every penny. And I got a lot of pennies from my case believe me :)
They were able to help me get a settlement very quickly I got hit by a car in November and had just moved into my first apartment so I was really worried and they helped me out soooo much!!!!
Attorney Drew Bruner and his paralegal Taylor Gordon were fantastic! They were quick to tell me right away what they could and could not offer me. There was no beating around the bush. In the end, I could tell that their mission was to help me as a person and not just another money hungry attorney. I am highly satisfied with the service I received and definitely recommend using Bruner.
Best of the best! I have been blessed to have Bri and Chris help me! I HIGHLY RECOMMEND the Bruner Law Firm, and encourage anyone needing help to request to speak with Bri and Chris! They both answered all of my questions and provided much needed help and information (in a very timely, friendly and professional manner too!). I would have been lost if I had tried to navigate everything on my own, and will always be grateful for them! I KNOW they care about me, and that is priceless! They also successfully resolved my case with an outcome that I am 100% pleased with!
Taylor and Drew were very helpful with everything we needed during the difficult situation we were going through.
When confronted with a legal issue during a time sensitive business deal, I made the fortuitous decision to contact attorney Drew Bruner for relief. Drew's depth of knowledge and masterful command of legal acumen is, impressively, matched only by his boundless commitment to his client's wellbeing. Now, having witnessed firsthand the professionalism, responsiveness and quality of work rendered by Drew and his staff, I have the great privilege to proffer both my profound gratitude and humble endorsement – alongside an ever-growing chorus! – that The Bruner Law Firm stands apart in a crowded market as the preeminent law firm in Northwest Florida.
I was hit by a car while I was riding my bike 2 days before Christmas. My landlord recommended Bruner Law Firm. My husband and I stopped by Bruner Law Firm on our way home from the hospital the day of my accident. We met with Drew. Drew was absolutely wonderful. He took his time and went over everything with us and answered all our questions. He was always easy to get ahold of anytime I had a question or concern. He went above and beyond for me. He got my case settled quickly. I got my settlement check in a little over 2 months after my accident. I would definitely recommend Drew. He is amazing!!!
Amazing experience.Great communication with Taylor!! 10/10 definitely recommend The Bruner Law firm.
First time experience, couldn't be more pleased. My lawyer Vince and his legal assistant Taylor did an awesome job, I received the full amount allowed very quickly, and the team took care of everything after I turned in the paperwork. My name is Shaun zinn, and will be using this amazing law firm in the future.Thank you so much, Vince and Taylor
First you are going to be medically evaluated and receive treatments for your injuries. The process of treatment is a great benefit in your diagnosis and recovery. The access to care is foundational.Drew has done a great job from the first day we spoke to the final settlement. He is a straight shooter who speaks plainly and gives you the road map of the process updating and contacting you with relevant information.My financial expectation came from google although Drew did discuss a range. Well Drew was able to secure a settlement of four times what was my expectation. This was well beyond any number discussed or found on google.I have enjoyed the experience although it did come out of an injury. The medical professionals were awesome people. Tina, Taylor, Drew at the Bruner Law Firm did their job well.Thank you again Drew!
These people are amazing! They are very genuine and honest. Drew was my attorney for my case the last couple of years and has walked me through the case every step of the way, I didn't feel confused or left out which are things that I was worried about going into this. Also want to share good words on Monica and Taylor they are very helpful as well, anytime I needed to speak with drew they made sure he knew, if I had any papers that I needed to sign they talked me through them to help me understand what I was signing, and they're very beautiful women through and through. Thank you guys for everything I really appreciate you. Nya B.
Drew Bruner and all his staff are absolutely amazing. This process with them has been nothing short of remarkable. Working with Taylor was always great and timely. I will continue to recommend them to anyone I have the ability too!
I have had a wonderful experience with this firm. Taylor has been available to answer any and all questions I've had and really hold my hand through this process! Would definitely recommend!
Taylor was amazing very fast and very helpful thank you and we look forward to doing business in the future
Excellent..very polite,professional and I felt very secure in their hands..highly recommend..Thank you, Drew.. excellent job
Drew Bruner is an INCREDIBLE attorney. I was in a devastating car accident 8 months ago. I contacted Drew and he literally took over for me from there! I had the other insurance calling and harassing me and even a third party investigator. I was overwhelmed and lost. When I called Drew's office I was greeted with the friendliest voice. I was already teary and had anxiety. She assured me right away, they are here to help and not to worry, and got me in right away!! I got to the office and Drew was there to greet me with a smile. We sat down, discussed my case, and I knew right away this is who I needed in my corner!! I'm SO glad I made the choice to hire Drew!!I NEVER have been forwarded to a voicemail. Every single time I've called I have either been connected to Drew immediately, or to my case manager who has been able to answer every question of mine! I never have had to speak to anyone about my accident that I didn't want to speak to since day one!!! Drew has been there for me, not just as a lawyer but a trusted friend. He has given me solutions to random issues that have come up during this ordeal I didn't even think were possible! Although I don't want to personally share what I have been awarded, I do want to share, that Drew ALSO got me the maximum payout legally available in under half the time it takes most cases in Florida to settle!! THANK-YOU DREW!! I will recommend you to anyone I know who has been in an accident here!!! You have changed my life!
Vince and Taylor were so helpful and kept me updated on everything concerning my case.
The staff here are amazing and very communicative. They explained every step to me in detail and were eager to answer any questions that I had. I am very appreciative!
First time & hopefully the last time was involved in a rear end accident by a drunk lady. Don't know what to do & pick one law firm near by my neighborhood & kind of famous in our area. Didn't return my call & found the other one also pretty famous in the law firm industry, just send me all the paperwork to my email but no live person I can able to ask some questions. Until when I called The Burner Law Firm, Emily the paralegal she talked to me explained to me what to do right away & the lawyer Chris Madden called me right after I was talking to Emily, Chris even told me the first thing was just rest & take care myself, no need to worry anything as he would deal with the insurance people & make sure I will get what I deserve. Highly recommend The Bruner Law Firm for their undivided attention and their knowledge.
The Bruner Law Firm is awesome! They made the whole process easy. Joe is very communicative and Sam and Monica are awesome! Highly recommend this firm.
The fort walton Bruner employees are absolutely amazing. They keep you informed and make sure you get the best results. I'm so thankful for them helping me through this time.
The Bruner Law Firm service was excellent! Very professional, helpful, and impeccable attention to every single detail of my case. Drew and Vince made the whole experience as clear as possible. They kept me up to date throughout the whole process. Best of all, I had great results and I'm truly thankful ! I highly recommend this firm without hesitation.
Taylor Meghan And Drew Were awesome. If you have ever been in a wreck call them! Taylor and Drew were so quick to help me get everything started!!
I've been working with Drew Bruner on my case and I can assure you he is great at what he does. He's on top of things and is great at explaining the whole process of things. Especially with me being out of town, Drew has done everything thing for me and has made it super easy to get things done over the phone. I have been very satisfied with their service and would definitely recommend anyone to this law firm. They've been wonderful!
Had a great experience with Bruner Law Firm from start to finish! Sam helped me every step of the way, explaining everything clearly and focusing on my needs and concerns. Very professional and I HIGHLY recommend this law firm!
I am so grateful for your passion dedication and professionalism. Thank you for working so hard on my case, I feel no pressure from you nor your worker at your law firm. Thank you again so much I can't tell you how much I appreciate the amazing legal work you did on my behalf even tho the medical bills was so amazing expensive but you are the best lawyer I have deal with definitely recommended Drew Bruner.
We would definitely recommend Bruner Law Firm. Drew was very knowledgeable and really took care of everything for us. He was prompt with keeping us up to date and negotiated a very good settlement on our behalf. The receptionist was also very courteous and knowledgeable. Should we ever need an attorney again, our first call would most certainly be to Bruner Law Firm!
Drew and Cheryl at Bruner Law Firm were extremely helpful and professional. Drew made everything on my end easy after I was struck at an intersection by a car who had run a red light. After one trip to their office they had everything set up and made the process simple and easy. Cheryl was always timely and got all of my paper work taken care of as soon as she got it. They recommended a great doctor who helped me recover from my back injury and got me back to full health. Cannot recommend them enough!
Every single person I have spoken to at this Law Firm has been so nice and helpful. They always either take my call or get back with me as quick as possible. They answered all of my questions and were happy to do so. They got me a very good amount for my accident. I am very happy with my experience. I would 100% reccomend them to anyone.
I don't write many reviews at all, but when an attorney takes time out of his busy day to speak personally on the phone to a client, now that's worth writing about. Not only did Drew and his assistant, Taylor, answer my questions and give me advice, they made me feel like I wasn't just another file. They got to know me personally, quickly I might add, and they helped me through the entire legal process. I HIGHLY recommend The Bruner Law Firm. They have been in business for years and they truly know not only the legal process, but how to treat their clients. There are alot of Personal Injury firms in our area, but the Bruners know what customer service is all about. If you want to be treated right, call Drew!
I highly recommend this firm. Drew is one hell of a lawyer! He was very responsive and knows what hes talking about. The insurance company was trying to drag it out as long as possible with the hopes id settle for less. ( Insurance companies are currently taking advantage of people thinking everyone is hurting for money due to covid ) At first the insurance company wouldn't even make an offer but Drew got them to pay every cent i was entitled to. i was extremely happy with the outcome and i received almost twice as much as i expected!Thank you Drew!
Drew and Emily worked on my case they got everything done extremely fast so kind and professional. Will definitely use them in the future if needed. We are extremely happy with Bruner law firm!
I am very honored to have been associated with Bruner Law Firm. Right off the bat at first instance I met Mrs Taylor and assistant Bri they were very compassionate understanding individuals. Confused injured and distraught they provided me with A1 advise on how to handle a major and disaterous situation.I am very pleased with Bruner Law Firm and the services provided, the advice , the help..Without hesitation I would consider them first in future ciircumstances.I also would definately recomend the Law Firm to anyone as a first choice before seeking advise anywhere else.
Drew Bruner and his staff are the BEST around. As a busy mother of four and all the crazy responsibilities that it comes with, being hit by a drunk driver was the last thing I needed. From beginning to end Monica And Taylor answered every question or concern I had. This Firm treats you like family and gets the job done!! Drew went to work the minute I walked out of his firm, He's Fast and affective!! If you need a personal injury Lawyer, Go with Bruner Law Firm
Drew was able to reach a quick settlement from my car insurance carrier.I appreciate his and his staff's thoroughness and professionalism. They prompltly returned phone calls, gave updates throughout the process, and explored several other potential cases. Drew spent quite a bit of time with me after the settlement. His advice was invaluable.I would recommend the Bruner Law firm and I would hire them again.
Great experience! I highly recommend to anyone in need of help/representation. Taylor was extremely helpful and comfortable to deal with. Great team!
This was an amazing experience working with the attorneys at this firm. Drew and Cheryl h was very determined and dedicated too helping me get my settlement. I am very satisfied with my results. This firm is very professional and will get the job done! I would recommend The Bruner Law Firm to anyone. Thank you Brew and staff for everything y'all are the best!
Chris and Taylor were amazing to work with. They were helpful and compassionate. They were easy to get ahold of and their response time was great! Very thankful for their help!
Drew Bruner is a fantastic individual. I was always invited to see him or call. After my accident I met with him, and he was honest about everything. He didn't hide anything from me, and took a lot of stress after my accident away. The staff was always good to my Daughter and Wife. He will take care of you, that's a promise.
Drew did an excellent job collecting for me, after an accident that was not my fault. He collected the maximum amount of coverage that was available, and got it done quickly. He also was excellent with communication with me. Would 100% recommend. Lord willing, this was my first and last ever accident, but if it were to happen again, he most definitely will be my attorney!
Drew Bruner who handled my case, first and foremost welcomed me as a person not a potential client. His professionalism concerning the Florida insurance laws, he explained in layman's terms , not attorney jargin. He made sure I understood every aspect of my case. Professionalism was top notch, no lengthy appointments. Mr. Drew Bruner kept me up to date , on a as needed basis. He also returned my messages in a timely manner. There was a significant trust between client and attorney. I recieved my car accident settlement within 3 months. I ask you is that not great 👍 or what. It was crucial that I obtained an attorney locally, I found a great attorney and I'm sure his excellence of service will continue. My Best Regards, Sandy McCall
I will always recommend the Bruner Law Firm for anything that involves personal injury. They made it so easy from the beginning, and Drew was always beyond helpful. Definitely made a bad situation from an accident a lot easier. Thank you Drew and the Bruner team! 🙏
Very pleased with my experience. Drew and Emily were very helpful. All of my calls were returned in a timely manner and my questions were always answered. I appreciate all of the help!
My experience with the Bruner Law Firm was flawless. Drew, Taylor & Monica are informative, quick to respond extremely helpful and have given me hope in humanity again. 10/10 recommend.
My wife and I were involved in an accident while on vacation. The other driver was at complete fault. For several weeks we weren't able to get any help from the other insurance company. The laws are quite a bit different in Florida than they are in my home state. We came back to Ft. Walton and found the Bruner Firm online. Drew was able to meet with us the next day. He was very knowledgeable of the laws in Florida. It took one year to settle or claim. Drew was always courteous and very reachable throughout the year. He was very prompt in returning phone calls and emails and always kept us informed of any changes to our claim. Everyone in the office was always courteous and professional. If you need legal assistance I would recommend you give Drew Brunner a call. God bless you.
Drew Bruner is a fantastic Attorney! First off I had called 3 lawyers after my Motorcycle accident. He was the first to respond. Also he came to me!! How awesome!!! He worked hard from day one, best work ethic I've seen in a person! Continuously on the job! He tries his very best to help his clients!! He always picks up the phone too!! Very devoted man! A man of Character, choosing him to back me in getting the money and return that I deserve was one the BEST decisions I've ever made! Thank you Drew! You're the greatest!!
Drew Bruner is an amazing attorney!! He did all he could to help us in our auto accident. My husband's car was totalled by a drunk driver who didn't even have a driver's license. Drew got us more money than we expected and dedicated his full attention to our case. I highly recommend calling Drew Bruner if you are the victim of a car accident.
The Bruner Law Firm has amazing people in their staff, willing to go the extra mile. Drew Bruner is with out a doubt one of the best lawyers in the area. His people skills, knowledge and professionalism is second to none. I highly recommend this law frim, if there was a sixth star I would have gave it to them.
Great Experience!!!!! The Bruner Law Firm handled my case like a true professional. I couldn't have been more satisfied.Excelente Servicio muy profesionales y atentos al cliente. Muy satisfecha.Thank you!
Getting in a car accident is a very stressful and life changing experience. I met some wonderful people that helped me out of my car wrapped in their child's blanket after going into shock realizing that I walked away from being hit by a drunk and high delinquent. One of the ladies recommended Burner Law firm. After, contacting Drew my life changed forever. I met someone that was looking out for my best interest. I was raised by a great woman that taught me you can't miss nothing you never, had in your life. This allow Drew, the time to work my case without hassles from me. Drew, always gave me ownership over my case. When I got to know Drew, I gained more than a lawyer, I gain a friend that looked out for my interest. Without, Drew the insurance companies would have fabricated a way to give me the least amount of money for my settlement. Mrs. Cheryl the receptionist was just as awesome in handling my case. If Drew was out the office Mrs. Cheryl took care of any question or paper work I need to complete. Mrs. Cheryl made me feel comfortable and also gave me some advice about allowing my daughter to enjoy softball without burning her out. Because, she knows how travel ball can be overwhelming as she had two daughters that played at the same time. This conversation created a bound and advice for my life outside of the handling of my case. Thanks Drew and Mrs. Cheryl, for providing great service. Hope, I won't need another lawyer, because you guys have set the bar HIGH!!!!!!!
Emily & Drew helped with me case and were very professional! Thanks again
Hiring Drew Bruner to handle my accident was the best decision I could have made. After waiting for two years for the insurance company to not acknoledge my claim I called Drew Bruner and he had it closed in less then 6 months. He also helped my son with even more success after being struck on his bike (different circumstances and better insurance company). He has changed our life and circumstances and did it with grace, persistence and a whole lot of patience with me and an insurance adjuster from hell. Thanks again Drew!!!!!!!!!
The process with Bruner so far has been seamless and the Bruner team is both knowledgeable and helpful.
For a bad situation Drew was great. Keeping me informed on my case and always getting back with me real quick. The receptionist Cheryl is awesome. Real sweet informative lady! Just a great firm all together.
Wonderful experience working with the attorneys at Bruner Law Firm. Drew and Vince are first class professionals whose commitment to excellence goes above and beyond their clients needs. 5 stars across the board. Will definitely use this firm in the future 🎖🎖🎖🎖🎖
Wonderful experience working with the attorneys at Bruner Law Firm. Drew and Vince are first class professionals whose commitment to excellence goes above and beyond their clients needs. 5 stars across the board
Was in an auto accident. Drew made sure I was okay first of all, and then treated my case like it was top priority as he does every case. He was very efficient and quick at reaching a settlement with the insurance companies. I 100 percent would recommend to anyone.
After dealing with a very unexpected tragic loss of my husband, due to a motorcycle accident that my husband was not responsible for, Mr. Vince Bruner has been incredible along with his staff for helping me and my children with this case. They have definitely helped throughout this already hard enough time of loss and has brought a lot help and comfort throughout all of this. They stay on top of everything, very good at keeping me up to date on everything as this is already a not so easy and fast paste case to go through, they definitely do all they can to make it as fast and easy going as possible. Just speaking from my personal experience. I don't regret going to Bruner law firm to help me with this case!!
Bruner Law Firm is very professional and caring law firm. My case was handled very quickly and had a very positive results. I was going though a difficult time and they always took their time with me and made me feel very comfortable. I would definitely recommend them for any attorney services you may need. Thank you
This Law Firm has been very good to me and has worked very hard on my case. I was kept informed of the progress and they answered all my questions to my satisfaction every time I had one. I have absolutely no complaints and would refer anyone to you that needed help.
I have nothing but good things to say about my experience with The Bruner Law Firm. My attorney, Drew Bruner, was able to handle my case swiftly and successfully. I was able to speak with Mr. Bruner as often as I needed, and never felt like I was hassling them with my questions. Their experience and class over there is apparent from the first time you speak with them about your case. Bruner Law Firm is the only firm I will consider using in the future.
This was the first time I've ever needed a lawyer. Vince and Drew were very professional, empathetic, and did a great job dealing with insurance companies. Everything was done in a timely manner and the communication was awesome. I am very satisfied with their services and would recommend.
I couldn't be happier with the service that the Bruner Law Firm offered me. Taylor was so sweet on the phone and immediately made me feel at ease. I recommend this firm to anyone who has a personal injury case! A++++
The Bruner law firm is hands down the most professional honest and caring people I have ever had the privilege of working with, they went above and beyond to help me with my case, they treated me like I was family ! and made me feel like no matter what they would be there for me. So if you need a great law firm it makes sense to talk to Vince ! Thank you Bruner law firm for all you do !
Shortly after moving to FWB I was in a car accident. No knowing very many people here and less about Florida Law I decided to reach out to The Bruner Law Firm to assist me with all the after accident legalities. I am so glad I did. They are amazing people and did an outstanding job. I cannot stress enough how unpainful it was, unlike the accident. I would highly recommend them to anyone who has the misfortune of getting into a car accident in this area.
Drew and his team worked on my case for 4 years and diligently advocated for me and my best interests. He was quick to respond to my phone calls and emails, and was always kind, courteous and professional. I have referred my friends in need of legal services and will continue to do so...Thank you Bruner Law Firm!
n January 2020 my child was a passenger on a motorcycle that was hit by a car. Drew sat down with us, explained the way "no fault" insurance worked and laid out what to expect. He answered all our questions and responded quickly to my emails. If your in a no win situation because your the little guy against the insurance company's and medical providers, call Drew, he's a good guy to have one your side! I pray we never end up in a situation like this again, but if we do, Bruner Law Firm will be my first call!!
I would recommend The Bruner Law Firm to anyone looking for a dependable, highly educated, respectful, loyal, hardworking, justice seeking attorney that will fight for you like you are family! Drew and the office staff were sincere & easy to work with during a difficult time, they were patient and explained all options and the legal process. Legal representation you will be proud to have in your corner!
So thankful for Bruner Law Firm. I had no idea what I was going to do, Drew made everything so easy for me. Taylor was awesome, kept me up to date. Thank you so much
I was hit by a car on my bicycle. My femur was broken, nose broken & hip dislocated. As a result of my accident, I became homeless. Drew Bruner got me an advance on my settlement. Because of that, I was able to get a place to live. If it wasn't for him, I probably would have frozen to death in 24° weather. As far as his services are concerned, he went out of his way to help me. He did research for me on things that had nothing to do with my case, and he worked tirelessly to get me the best settlement offer in the shortest amount of time. I am forever grateful for the kindness he showed me. 5*, thanks Drew. 😊😙
I can't say enough amazing things about our experience. We are so grateful and truly couldn't have picked a better person to represent us. Drew, thank you so much!!! 10/10 recommend for all your needs.
Awesome people to work with, Drew and Taylor were awesome, I can't thank them enough
Drew made the entire experience pleasant and he was open and honest about what was going on. He was always available to answer any and ALL questions I had! I HIGHLY recommend Bruner Law Firm.
Multiple people referred me to The Bruner Firm and told me about their great experiences and now I know why. Everyone I dealt with was very courteous, professional and most importantly knowledgeable about my case. I normally don't write reviews but I wanted to share my great experience with the firm.
I called the Bruner Law Firm after my accident and Vince Bruner Jr took the case and hit the ground running!! He did not quit until I was offered a fair and decent settlement. He answered any questions I had all throughout the case very quickly and kept me informed at all times! He took the time to explain any parts of the law I didn't fully understand. Additionally, the entire staff was very friendly! If you need a great lawyer filled with compassion call Vince Bruner Jr he will take excellent care of you!!!
Highly recommend Bruner Law Firm! Drew is a phenomenal lawyer and his legal assistant Kim is very helpful, kind, and informational. It's easy to get bogged down with all the legal terms, but Drew always explained things in a way that made it easy to understand. They are quick at responding and altogether down to earth, caring people who want the best for their clients. It was such a pleasure to work with them!
Bruner Law Firm, specifically Taylor and Drew, was extremely helpful with a recent case. They were quick to respond and very comforting during a troubling event. Everything was kept simple, no excessive legal jargon that I didn't understand, and they were forthright and honest with all the proceedings and information. Best of all, they were able to settle everything within a matter of days versus having everything dragged out for months. Highly recommend, Bruner Law Firm.
First time needing a lawyer and I'm so glad I used Bruner Law Firm for my auto accident case! I was in excellent hands from day one. I knew Drew was looking out for my best interest. He and Tia communicated with me throughout and answered any questions I had along the way (this was throughout the beginning of Covid as well). Look no more, you've found the best!
Definitely recommend Bruner law firm. Taylor was very helpful in getting us set up with Drew and Tia. All 3 were very helpful throughout the process keeping us informed, explaining how the process worked and answering any questions we had along the way. It was a smooth and very quick process I would recommend anyone to go with them.
Drew and Emily were both amazing to work with. Drew was always there for us any time we had questions. He kept us updated through the whole process and really fought for my fiance and I. I recommend using this team.
Drew and Kim took an overwhelming situation for me and turned it into an easy process. They responded quickly to answer any questions and explained everything that was going on at the time and what would happen next. They are an incredible team to work with. I cannot recommend them enough!
I had to use the Bruner lawyer firm and had Emily as my Legal assistant. She was very professional handled everything that I needed to get done And kept me up-to-date On my case. I highly recommend this Law firm for all your needs and ask for Emily. Thanks Emily and Drew for everything that you have done
I had a accident in 2020. A driver hit me from behind I contacted Drew Bruner, and let's just say I have him on speed dail. Attorney Drew and his staff was welcoming, and on it! My settlement was far more than expected!! Drew and his staff stayed in contact with me, and told me the facts from the beginning! I really appreciate everything your office has done for me.❤️
The Bruner Law Firm is one of, if not the best and professional law firm in the area. My family and I had the pleasure of working with Joe during our legal case with auto insurance. Although the case itself was long and dreadful, Joe and his team nevertheless made that process go smooth and easy. With an exceptional service, they were always there to ensure that we received the best legal advice, and ultimately achieved the maximum compensation settlement from our case for us. I highly recommend The Bruner Law Firm should you ever need an attorney service in a legal case.
The attention that my auto accident case received was timely and professional. Going up against an insurance company is never easy but Joe Lancos handled everything ! His timely communications with me throughout the entire process made me feel as if I was more than just a case number, but truly valued and cared for and listened to. I don't know how I would have received any medical help or physical therapy for my injuries caused by the accident without you and this firm!Thank you to Joe and Monica,The Bruner Law Firm for fighting for our worth! I am more than pleased with the outcome considering the circumstances than brought me to the firm!
Drew is a phenomenal lawyer and, more importantly, a great person. His team really made me feel special and took care of me both in my case and personally. If you need an injury lawyer who gets it done and really gets to know his clients- this is the place to be. I highly recommend! Thanks Drew!
There's only one name to know when you need an experienced team working for you. The Bruner Law Firm. Vince, Drew and Meghan were so proactive from start to finish handling my case. Meghan has so much experience dealing with medical providers and insurance companies. Medical bills started arriving for thousands and thousands of dollars, that demanded immediate payment. It created a lot of anxiety, that is, until I spoke to Meghan and learned she'd settled the matter and all bills were at ZERO BALANCE! Phew....What a relief it is to have this kind of experience working on your behalf. They are real people, providing real results. Easily one of the best decisions of my life. Don't go it alone, THEY KNOW WHAT THEY'RE DOING!! Pro's from start to finish! Call them and you too will understand why every review is 5 STARS!!!
If you are scared of the legal process and know NOTHING about how it works, I can promise you this is the place to go.Drew and his team were the most incredible people to work with over an almost 3 year long case. I came into this freshly 18 and was treated no differently than a person in their 40s, which as a young person you know is hard to find!If you want quick responses (24hrs usually) explanations you can understand and some decent settlement money look no farther.Drew was there every step of the way to answer any questions I had no matter how stupid, and trust me I had my moments.They are real people, not just lawyers, who actually care about you and getting you what you deserve. Thank you guys so much, you really made a terrifying process so simple and smooth. I'll miss working with you!
Taylor at Bruner Law Firm, FWB really helped me out when I was in a bind. I needed to get a last minute notary signed and she helped me out right away. In and out in less than 5 minutes. Great customer service!
Drew and his team really are in business to help the community. Emily and Sam helped process information and paperwork on my behalf. The whole process was easy and (besides my injuries) painless from beginning to end. Knowledgeable and dedicated to getting the closure I and everyone in my position not only request but demand. This legal team will have any and all of my family legal issues from this day forward. Thank you Bruner Law Firm.
Thank you for all your hard work! The Bruner law firm was very professional and helpful in my case! I would use them again if needed and refer if people need it. Thanks again Drew, tia and emily!
The best attorney group in Emerald Coast.
Best law firm on the Gulf Coast!
To Mr. Vincent Bruner, When you have your first accident at age 71 you feel your whole life has changed forever. Having been retired only a short time we felt as though our whole life was upside down. No visit up north to see our grandchildren and great great grandchildren would be possible with our second vehicle. I was worried about what to do and how to handle the insurance, the police reports, and whether to go to a Doctor. And if so, what kind? Being hit by a 10-ton truck was upsetting enough. But being naïve when it comes to insurance and reports took the cake! Then after praying for help, I saw or heard the name Vincent Bruner. I decided a call and meeting couldn't hurt. Meeting him the first day made me feel as though everything wasn't as desperate as I thought. He immediately got me the proper medical help by setting up initial appointments and proceeding with every piece of info I needed.I had no idea insurance wouldn't cover everything that I would need. I knew that it would take time and patience, but having a man with the personality and intelligence to pursue our cause and needs while keeping me informed when something changed was perfect. Vincent was an understanding gentleman and let me talk to him about my anxiety.He never let me down, and one day a phone call happened with the best news ever! Vincent never gave up trying to give us back our lives and getting it back to the way things were! Of course our lives will never be the same but having had the guidance, care, concern, and patience from Vincent has helped us on our journey to a life of relief, normalcy, and love.All of our thanks to a man who has been blessed with not just the intelligence, patience and perseverance that was involved, but who did it with a charm and wisdom very few young people have these days. May he always be blessed in his business and private life. Sent with love and thanks from not just me, but our whole family.
They did a fabulous job on handling my car accident case and did exactly what they told me they would do. They were fast in handling it and I would Definitely use them again and again if necessary. Thanks Drew and Vince for all your help.
Took care of our case when my family, and I were involved in a car accident. Drew was very helpful, and explained everything. Very highly recommend
Best Law firm across the Panhandle! If you are tired of working with bad lawyers that don't care about you or your case, then you NEED to reach out to The Bruner Law Firm. They are family owned and they really do care about their clients! I had a closed case with them, and months later they contacted me to let me know that they secured MORE settlement money for me! Who does that??? I have to say, they were and still are a blessing. Don't hesitate to call them!Thanks! CLL
They are very kind and very cordial when I ask them to help me form a nonprofit that is to help are local animal shelters developed and grow and be no kill shelters and even have our own adoption shop they're very excited and very much animal lovers to Okaloosa county thanks them for their support of save the puppies and kittens project hosted by world's famous crab Island
Drew Bruner is thorough and completely professional. He represented me in criminal court, and was able to prove my innocence. He was everything you hope for in a lawyer.
I had an insurance claim with Progressive and Mr. Bruner was able to get my adjuster to give me the payment I was entitled to. He was very nice and always took my phone calls. Since we didn't go to court the fees were very reasonable. I couldnt be happier!!
Mr. Bruner advised me with legal contract advice for my small business. He was always available and ready to assist in anyway possible. He took his time to thoroughly understand the documents and dedicate his time to advising me. I would trust Mr. Bruner with any legal matter and highly recommend him!
I only spoke with Mr. Bruner over the phone but he went out of his way to help me with a claim I am having with my small business. Thanks for lending a helping hand!
I used the Bruners for my car wreck claim and had a good settlement.
I am in the air force and had Drew manage my case. He was prompt, courteous, and professional throughout. Best of all, I had a great result.
Drew worked on my case immediately after the other attorney's paralegal drug his feet for years. Drew and Cheryl were a lot better than the other group I used so I highly rate this firm.
Drew took my car accident case. I love this firm, they helped me and they will help you.
Bruner Firm is a great law firm for all your personal injury cases! I have grown up around this family. They are very knowledgeable and helpful when you need them!
Drew did a fantastic job handling my claim. He kept me up to date throughout the whole process and I could tell he truly cared about me and my family.
Drew represented me in an auto accident claim. He was thorough. After settlement an additional medical bill arrived. Although a small amount Drew wrote a check out his portion of the earnings to settle the bill. Totally unexpected and shows what type of person he is. Absolutely would recommend him!
I'm overdue for this review, but better late than never. Drew and his team were professional, caring, and prompt every step of the way. All of my questions were answered in a timely manner. This firm really cares about their clients and it shows. I would reccomend them to anyone who has been injured in any type of fall or accident. I was very satisfied.
Although I have a case that is still open I have to give the Bruner Law Firm KUDOS. My 17 year old niece was diagnosed with lymphoblastic leukemia in August. Friends set up a Meal Train for the family and out of no where Drew generously donated to the cause. I live in ST. Louis. Drew & Cheryl are so easy to work with even long distance ‼️
Vincent Bruner was great. I didn't have any idea of what I should or shouldn't do after my accident. He's very knowledgeable. Vincent answered all my questions I had and answered ones I didn't have. He was very easy to reach in his office or by phone. When it came to my case I believe he and his team truly fought for me. Would recommend Vincent Maxwell Bruner to anyone who has had some sort of accident and is in need of a lawyer who be on their side.
SEE MORE

TESTIMONIALS
---
GET YOUR FREE
CASE EVALUATION