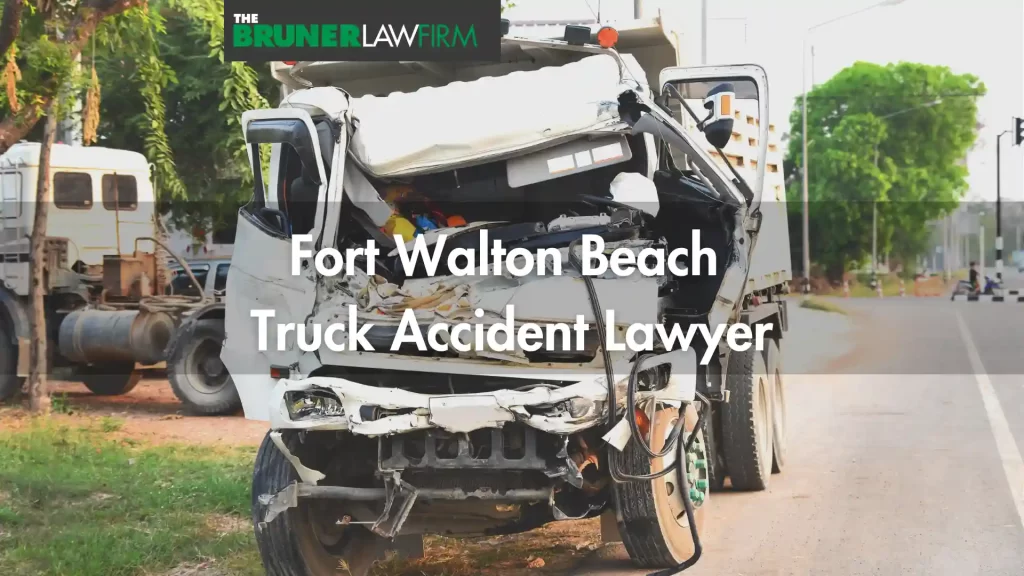 If you are hurt in an accident involving an 18-wheeler in Fort Walton Beach, the Fort Walton Beach truck accident lawyers of The Bruner Law Firm are here to help. Truck accidents can devastate your life. Our team wants to get you the compensation you need to rebuild and move on. Every year there are a reported 400,000 accidents involving 18-wheelers, resulting in 150,000 injuries and 5,000 deaths. The accident could cost you valuable time from work. That results in lasting pain or disability and damage or destroy the vehicle you depend on. When this happens, you need an experienced legal team on your side. We can help you demand accountability from the people to blame.
The Bruner Law Firm isn't afraid to stand up to the big trucking companies and insurers. Let us pursue the money and justice you need. Call (850) 243-2222 to schedule a free consultation with a Fort Walton Beach truck accident attorney today.
Do I Need an Attorney?
Because of their size and weight, truck accident injuries can be extremely serious for the driver and passengers of the other vehicle. The victims may require extensive medical care and lengthy rehabilitation. Unless you have knowledge and experience with personal injury law and the legal system, dealing with insurance companies or the trucking company's legal team can be an incredibly frustrating process.
An experienced Fort Walton Beach truck accident attorney will handle every step of your case so you can focus on rehabilitation and your overall health. They will give you the best possible chance of recovering the money you need to cover the cost of the accident. At The Bruner Law Firm, we have decades of experience handling personal injury cases, like truck accidents. What's more, we have won millions for our clients. With us on your side, you will be able to focus on your recovery while we win you the maximum possible payout.
Why Choose The Bruner Law Firm for My Truck Accident?
Since 1992, The Bruner Law Firm has helped people like you get compensation for their truck accident injuries and get on with their lives. We understand the ins and outs of personal injury law in Florida. And with over 25 years of personal injury experience, we can put that expertise to work for you and your family.
We are a family-run law firm that treats our clients like family. We believe the best way to achieve favorable results for our clients is to listen to their needs and let them know they're not alone.
And lastly, because we get results. We've helped thousands of clients obtain millions of dollars in compensation for their truck accident injuries. Now we're ready to help you and your family do the same.
Causes of Truck Accidents
Truck accidents can happen for a wide variety of reasons, and determining liability in these cases can be difficult. At The Bruner Law Firm, we can represent you in cases relating to:
Trucking accidents can be devastating for anyone involved. Due to the sheer size of 18-wheelers, the injuries they cause can be life-altering or even fatal. If you lost a loved one to a truck accident, an attorney can investigate and hold the at-fault parties to account.
Possible Injuries in a Truck Accident
An accident involving a truck has the potential to cause more serious injuries than an accident with passenger vehicles. That's because trucks can weigh 80,000 pounds when fully loaded. Stopping this much weight is not easy or simple. Very often, serious injuries can result from a collision involving a big rig.
Some possible injuries from a truck accident can include the following:
Head and Neck Injuries: Injuries like whiplash and concussions are common in vehicular accidents. Whiplash occurs when an impact causes a severe jerking motion of the head, such as in a rear-end collision. Concussions occur with an impact or violent shaking of the head, such as in reaction to an airbag deploying.
Broken Bones: Truck accidents can cause broken ribs, arms, legs, or skull fractures. Some of these broken bones take time to heal and may not heal correctly, which can leave a lasting disability.
Lacerations: Cuts from broken glass or sharp metal are common in a truck accident. Some large lacerations require surgery to correct and can leave lasting scars.
Traumatic Brain Injury (TBI): TBIs can result after a severe impact to the head in a truck accident. Concussions and cerebral hematoma are examples of TBIs.
Spinal Cord Injuries: A severe enough impact can damage the spinal cord, often resulting in loss of feeling in limbs or even paralysis.
Organ Damage: Severe impacts to the torso can cause internal bleeding and damage organs like the lungs, liver, spleen, or kidneys.
Burns: The force of impact with a truck can cause fuel tanks to rupture and fuel to ignite, and accident victims may get burned. Some burns cannot heal on their own and require surgery to correct.
Who Is Liable in a Truck Accident in Florida?
Liability in a truck accident can be more difficult to determine than in an accident involving two passenger cars. This is due to how the trucking industry works and the insurance requirements for truck drivers and trucking companies.
Truck driver: The driver of the truck is responsible for operating the vehicle correctly and safely. If the cause of the accident is the negligent behavior of the driver, they will likely be at fault. Examples include driving while under the influence and not performing safety checks on their vehicle. In such cases, the trucking company's insurance policy may be on the hook for damages.
Trucking Company: A trucking company, or carrier, may also bear some liability. For example, suppose an investigation determines that the carrier made their driver spend more hours on the road than is legal. In that case, they would be partially at fault in an accident.
Cargo loaders: If someone other than the truck driver loaded the cargo, they may also be partially responsible for the accident in some cases. If the freight the truck is carrying was not loaded or secured correctly and this leads to an accident, the loading company could be liable.
Vendors: Trucking companies often rely on a certain company or individual for maintenance on their vehicles. If that company's failure to maintain the vehicle leads to a crash, it could be responsible for the damage.
Manufacturer: The manufacturer of the truck or certain parts on the truck is liable for an accident caused by a defect in that part. A good example would be brakes. Say a truck manufacturer doesn't install a high-pressure brake line correctly at the factory. That line fails at a crucial moment, causing an accident and serious injury. In that case, the manufacturer would assume liability.
Highway Maintenance Contractors: Contractors often handle the maintenance of highways, roadways, and signage. If an accident investigation reveals that said contractor failed in their duties, they could have some liability for the crash.
Damages Available After a Truck Accident
A personal injury claim for your accident is not like a criminal case. Personal injury lawyers do not try to prove criminality. They attempt to get you compensation for what you suffered due to another party's negligence. This compensation takes the form of damages or a settlement.
"Damages" can refer to any number of possible losses you experience after a debilitating truck accident. They cover both monetary and nonmonetary losses. Compensation may be available for your losses, some of which may include:
Medical bills: These can include hospital stays, emergency transport, medication, rehabilitation, or surgical costs.
Lost wages: If you're injured in a truck accident and unable to work, you may have difficulty making ends meet. You could get compensation for your time off work for medical appointments or for the time it takes to heal. If you cannot return to the same job or are unable to work at all as a result of the accident, you could obtain compensation for lost future earnings, as well.
Lost opportunity: Suffering a debilitating injury due to a truck accident will often put future plans on hold, like plans to travel or start a business. Some compensation may be available for missing out on these activities.
Property Damage: If a truck accident destroys your vehicle or any personal items inside it, you can include the cost of replacing or repairing these items in your claim.
Pain and Suffering: This category aims to cover losses that are impossible to quantify. Being in a truck accident can be an emotionally devastating experience for everyone involved. Dealing with the trauma can take a toll on both the victim and their family. Compensation for pain and suffering should alleviate some of this strain.
Wrongful Death: Truck accidents sometimes end in the worst possible way: with the death of a loved one. We understand that no amount of money can change the outcome. However, monetary compensation for a claim of wrongful death can relieve the financial and emotional strain.
You may also be able to claim punitive damages in some truck accident claims. Claims where there is blatant negligence or disregard for the safety of others are examples of punitive damages.
Punitive damages are different from compensatory damages. They are not meant to repay any losses suffered as a result of a truck accident. They are specifically designed to punish the responsible party and deter them from acting negligently in the future.
Punitive damages require a different standard of proof than negligence. Your Fort Walton Beach truck accident lawyer must provide evidence of the at-fault party's actions. The evidence must prove they acted with conscious disregard for the safety of others and with intentional misconduct. This means they were aware their actions would negatively affect the safety of others.
Truck Accident Statistics
The Federal Motor Safety Carrier Administration compiles a report each year containing statistics of crashes involving trucks and buses. Here are some interesting statistics from 2020, the most recent year for which there is complete data:
The number of large truck and bus crashes nationwide increased by 30 percent from 2010 to 2020.
In 2020 there were 13.49 fatal large truck crashes per million people, a 27-percent increase from 10.6 in 2010.
There were more than 415,000 police-reported crashes involving large trucks. One percent were fatal, and 24 percent had injuries that required treatment.
Approximately 54 percent of all fatal crashes involving large trucks occurred in rural areas. 27 percent occurred on Interstate highways, and 13 percent fell into both categories by occurring on rural Interstate highways.
In 2020, 26 percent of work zone fatal crashes and 15 percent of work zone injury crashes involved at least one large truck.
Single-vehicle crashes (including crashes involving a bicyclist, pedestrian, nonmotorized vehicle, etc.) comprised 22 percent of all fatal crashes, 16 percent of all injury crashes, and 24 percent of all property damage only crashes involving large trucks in 2020. The majority (62 percent) of fatal large truck crashes involved two vehicles.
Contact a Fort Walton Beach Truck Accident Lawyer
If you or someone you love was hurt or killed in a truck accident, you might be eligible to seek compensation from the responsible party. At The Bruner Law Firm, our Fort Walton Beach truck accident attorneys make it their mission to win cases just like yours. To consult with an experienced injury attorney at The Bruner Law Firm, call our Fort Walton Beach office at (850) 243-2222 today.
Related Posts: