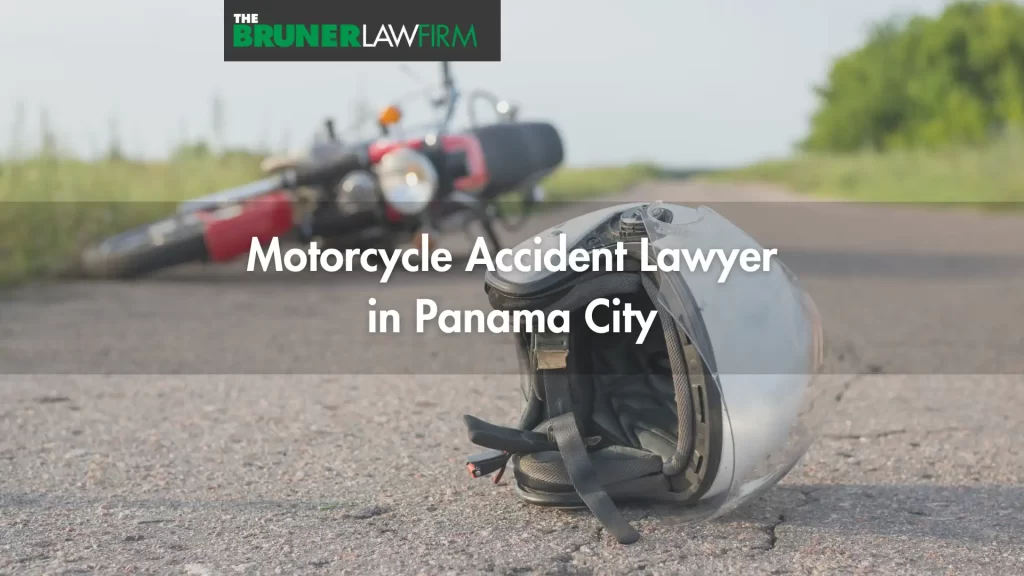 Were you hurt in a motorcycle accident in Panama City? Don't wait until it is too late to get the compensation you deserve. Call the experienced Panama City motorcycle accident lawyers of The Bruner Law Firm right away to discuss your rights and legal options with a knowledgeable member of our team.
A motorcycle accident can be devastating, and the rider is often the one who suffers the worst and most serious consequences. Despite being a safe and responsible rider, you could cross paths with a motorist who ignores basic traffic laws or doesn't notice you're on the road with them. When you sustain injuries because of someone else's reckless actions, the feeling is overwhelming. You're trying to recover, unable to work, and worried about how you're going to pay your medical bills. No one should have to go through something like that on his or her own. At the The Bruner Law Firm, our Panama City motorcycle accident lawyers dedicate themselves to providing unmatched legal services to our clients. You can depend on us to advise you on your options and guide you through this complicated process.
All of our attorneys, paralegals, and support staff have the knowledge and skills to fight for you and ensure you receive the financial compensation you deserve. Whether the injuries from your auto accident were minor, severe, or life-threatening, we will make you a priority. We will treat you like family from the second you hire us. We believe in open communication throughout our clients' cases. You'll never have to wait long to receive a callback or get the status of your claim. We take pride in the unmatched customer service we provide for everyone who talks to us. Our team of professionals is available 24/7, so you can reach us when it's most convenient for you.
Since we opened our firm more than 25 years ago, we've recovered millions of dollars for motorcycle accident victims. Our goal is to reach a favorable outcome in your case promptly. We don't believe in dragging out the process for months or years. We understand your need to put this time in your life behind you as quickly as possible so you can move forward. Our team works diligently on every case that crosses their desks to ensure we get results. If you want to schedule a free consultation with one of our experienced Panama City motorcycle accident lawyers, call us at (850) 769-9292 today.
Common Causes of Panama City Motorcycle Accidents
Motorcyclists are at a higher risk of injury and fatality than drivers of a car or truck. Unlike an automobile, motorcycles do not provide any airbags or safety restraints. Riders get exposed to the dangers around them and any inclement weather they come across. During a crash, the motorcycle driver could get thrown onto the road or another vehicle, resulting in injury or even death. The roadways in Panama City are filled with thousands of residents and visitors every day. With more people on the road, the likelihood of an accident occurring increases. Some of the common causes of motorcycle accidents include:
Speeding
Driving under the influence of alcohol or drugs
Inexperienced driver
Distracted driving
Tailgating
Failing to yield the right of way
Ignoring traffic laws
You must follow traffic signs and signals, but even the most experienced and responsible motorcyclist could become the victim of an accident. The The Bruner Law Firm knows it's essential to pay attention to all the details of your crash and take great care in handling your case. Following the necessary steps in a motorcycle accident claim could ensure you receive the proper compensation for your injuries.
What Should I Do After A Motorcycle Accident?
The number of Panama City motorcycle accidents that occur every year is staggering. With the population steadily growing and tourists visiting this Florida panhandle city in record amounts, the likelihood of becoming the victim in a motorcycle accident is pretty high. If you sustain any type of injury in a motorcycle accident, you should seek medical treatment immediately. The longer you wait, the more likely the insurance company will deny your claim because they won't believe you're injured.
If possible, you should also take photos of the accident scene and damage to your motorcycle. When you hire one of our Panama City motorcycle accident lawyers, we will put the wheels of your case in motion right away. Some deadlines and statutes could potentially prevent you from collecting any compensation if we don't adhere to them. We will file a claim with the at-fault party's insurance company and work to prove they caused your accident. We will also need to determine if there's sufficient coverage with the insurance company to cover your expenses. An essential step in your motorcycle accident case is collecting the right evidence to prove your claim. Some of the critical pieces of evidence your attorney will obtain includes:
Photos of the vehicles and your injuries
Video surveillance of the collision
Your medical records and bills
Police reports
Witness statements
Vehicle damage estimates and repair bills
Proof of lost income
While your case is ongoing, you should continue treating with your doctor and visit any specialists they recommend. You should also make sure there are no significant gaps in your treatment, and you continue to see your doctors until they release you from care. Gathering evidence after Panama City motorcycle accidents is crucial in proving the other driver caused the accident and should suffer the consequences.
Types of Damages You Could Be Owed
In motorcycle accidents, there are two types of damages. Compensatory damages are losses an injured person incurred as a result of their collision. Punitive damages would be a punishment towards the other person if their reckless behavior caused the crash. Damages in a motorcycle accident claim include any expenses that aided in the victim's recovery. The damages you could seek compensation for as a result of your accident consists of the following:
Medical Expenses: Bills for any treatment deemed medically necessary, including ambulance services, ER visits, hospital stays, surgery, physical therapy, assistive medical devices, home health care, and prescription medication.
Lost Wages: Any salary, commission, promotion, or bonuses you were unable to earn because of your traffic crash. If your injuries are permanent, you could seek compensation for any future wages you're unable to make.
Pain and Suffering: Significant physical pain and suffering you endured that affected your ability to enjoy your daily life.
Emotional Distress: Psychological or emotional trauma you suffered after the accident, such as PTSD, depression, or anxiety.
Loss of Consortium: An immediate family can seek compensation for damages if their loved one's injuries negatively impacted the relationship.
Wrongful Death: If the victim of a motorcycle accident dies as a direct result of the negligent party's actions, their loved ones can seek compensation for expenses, such as funeral and burial costs.
Who Can be Held Liable for a Motorcycle Accident?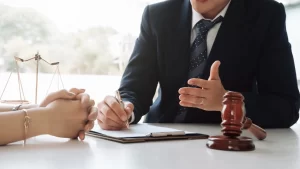 Your attorney will determine which party they should file a claim against at the start of your case. The first option is to file a claim against the other person's insurance company. The state of Florida is considered a "no-fault" state. That means proof of liability isn't necessary to receive compensation. Whether you collided with another motorcycle, passenger vehicle, or commercial vehicle, every Florida driver is required to carry insurance with specified minimum limits. You're able to seek compensation for the maximum amount of bodily injury limits listed on the other driver's insurance policy.
You could also seek compensation from your insurance carrier. UM insurance, or uninsured/underinsured, covers your medical expenses if the at-fault party doesn't have liability insurance or their limits don't cover all of your costs. Every state has different coverages, so whether you're a resident of Florida or just passing through, our Panama City motorcycle accident lawyers will help determine how much you're eligible to receive for your injuries based on your UM insurance policy.
Sometimes insurance companies don't want to offer the maximum amount of limits available or refuse to payout altogether. If that happens, we'll file a lawsuit against the at-fault driver and their insurance company. There are many complexities involved in a motorcycle accident lawsuit, but it may be a necessary step to take. Whichever route we take in your case, we'll use all the resources at our disposal to secure the maximum settlement available in your case.
Call The Bruner Law Firm for a Free Consultation
If you or your loved one suffered injuries from a motorcycle accident, call The Bruner Law Firm today. We offer a free consultation to all our prospective clients. There will be no risk or obligation to speak with a Panama City motorcycle accident lawyer about your situation. We will be happy to set up an appointment to review the details of your accident and determine your best options moving forward. We will provide the legal advice you need to help you make the decision that is most beneficial for you.
Our mission is to make sure insurance companies don't take advantage of our clients. We'll explain the legal process in detail, so you understand what to expect and how much your claim is worth. We will handle the complicated steps ourselves, so you're able to dedicate your time to healing your physical and emotional injuries. You won't be on your own throughout this situation. Our firm is available to take your call at any time of the day to answer your questions. We will be there to support you from the beginning of your case to the end.
Call a Panama City injury attorney from The Bruner Law Firm right now if you've been hurt in a motorcycle accident caused by someone else's negligence. We're available by chat, email, or phone seven days a week. Call (850) 769-9292 now, and we'll schedule your free consultation.