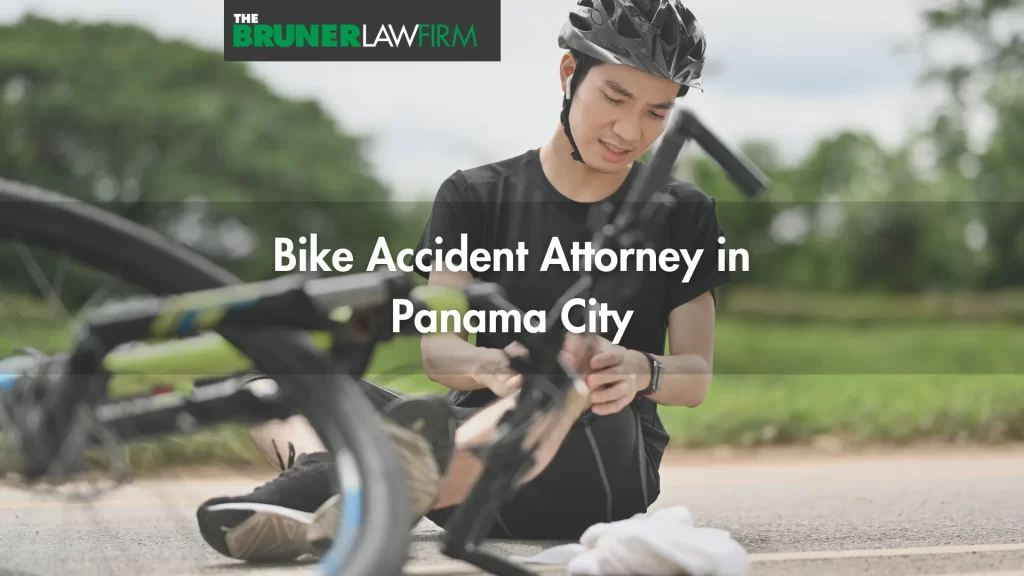 If you or someone you love sustained injuries in a bicycle accident, call The Bruner Law Firm for the qualified legal help you need right away. We are committed to helping clients just like you seek the justice they deserve. We understand the devastation that a situation like yours causes. You're in pain, trying to recover, and worried about the expensive medical bills you're receiving. You might wonder how you're going to afford your treatment or if you could ever return to your job. Depending on the extent of your injuries, they could warrant financial compensation from liability insurance or the driver who caused the accident.
The Panama City bicycle accident lawyers from The Bruner Law Firm are prepared to help you get the maximum compensation possible for your injury claim. When you hire us, we will dedicate our time to ensuring you receive the maximum settlement available in your case. We work diligently so your case won't drag out unnecessarily. Our goal is to resolve it as quickly as possible so you can move forward with your life.
We believe in providing superior customer service to our clients. You should never wait for days or weeks to receive a callback. If you want to schedule an appointment or receive an update on your case, that should happen promptly. We're available 24/7 through our Live Chat feature, so you're able to reach whenever you need us. Whether it's the middle of the night or the middle of the day, we're here for you. Call us at (850) 769-9292 right now to schedule your free consultation.
Bicycle Accident Statistics in Panama City
The fact that Panama City is a popular tourist attraction increases the risk of becoming the victim of a bicycle accident. Residents and visitors congest the roadways during peak season, creating dangerous situations for individuals riding their bicycles.
According to the National Highway Traffic and Safety Administration, there were 857 bicyclist fatalities in the United States in 2018. In the state of Florida alone, statistics showed 6,568 crashes involving a bicycle occurred, which resulted in 148 deaths. The Sunshine State also ranked number one for the most bicycle-related deaths in 2017.
The alarming statistics prove the importance of taking proper safety precautions every day that you get on your bike. Even if you follow all traffic laws, you could cross paths with a driver who is careless or ignores the rules of the road.
Common Causes of Bicycle Accidents in Panama City
In a place like Panama City, people tend to ride their bicycles everywhere. The warm weather and vast beaches create the perfect environment for spending time outside. Riding a bike is a common form of transportation in a tropical place like Panama City.
Whether you're traveling through the bustling city or quiet suburban areas, a collision could occur. Traffic laws involving bicycles are apparent, however, most motorists don't know or follow them. The most commonly reported causes of bicycle accidents in Panama City are the following:
Speeding
Distracted driving
Drowsy driving
Road rage
Driving under the influence of drugs or alcohol
Opening a car door in the path of a bicyclist
Aggressive driving
Swerving into the bicycle lane
You shouldn't have to suffer the consequence of someone else's poor decisions. Whether they're in their car texting or don't check their blind spot before merging, or are otherwise behaving negligently, you should receive proper compensation.
What Should I Do If I Get Injured in a Bicycle Accident?
There are two crucial steps you need to take if you sustained an injury in your bicycle accident: seek medical treatment and hire a Panama City bicycle accident lawyer from The Bruner Law Firm. Initial treatment is a useful piece of evidence proving your injury resulted from an accident as opposed to a pre-existing condition. If possible, you should also obtain proof at the scene of the crash. Call the police, so they're able to write up a crash report, take photos of the area and any vehicle damage, write down the driver's auto insurance details, and get witness contact info.
Many victims of bicycle accidents try to handle their case on their own. They believe they could resolve their matter without the help of a lawyer. However, If you attempt to file an insurance claim or lawsuit without legal representation, you could get taken advantage of and receive a settlement much lower than you deserve. An experienced lawyer knows how to maximize your claim, so the compensation you receive covers the cost of your expenses. They will communicate with opposing parties to ensure your rights stay protected, and nothing falls through the cracks. Additionally, they're familiar with combing through insurance policies to determine the highest amount of coverage available.
We understand this is a devastating time in your life. We're sensitive to the negative impact your accident and injuries created and work efficiently, so we're able to close your case. We'll prepare for any potential obstacles to ensure your case continues moving forward in a timely manner.
When you hire a Panama City bicycle accident lawyer from The Bruner Law Firm, we will start working on your case immediately. We'll launch a complete investigation into the collision that caused your injuries. We will locate essential evidence to prove the at-fault party should be held responsible for the expenses resulting from your treatment. The evidence we'll look for after your accident includes:
Police/crash reports
Video surveillance
Photos of the damage to the car
Repair estimates and bills for the at-fault driver's vehicle
Witness statements
Copies of the motorist's insurance policies
Your medical records and bills
While we're finding evidence to build a solid case, we'll also file an insurance claim on your behalf with the negligent party's insurance carrier. Florida law requires all vehicle owners to carry auto insurance with a minimum bodily injury limit. That limit could compensate you for any damages you incurred as a result of the crash.
How Much Compensation Could I Receive?
Damages are losses resulting from an accident and resulting injuries. In bicycle accident cases, you could receive a financial award for both economic and noneconomic damages. Economic damages are expenses, such as medical treatment, while noneconomic damages are emotional pain and suffering. The damages you could recover compensation for in the state of Florida include:
Medical Bills: Any treatment necessary for your recovery, including physical therapy, ER visits, in-patient services, ambulance transportation, home health care, prescriptions, and assistive medical devices.
Lost Wages: Pay you're unable to earn because of your bicycle accident.
Future Earning Capacity: Any future earnings you'll miss out on because your injury will prevent you from working.
Emotional Distress: Psychological and emotional trauma suffered, such as stress, PTSD, and depressions.
Pain and Suffering: Significant physical pain you endured after the crash that negatively impacted your daily routine.
Loss of Consortium: Loves ones could seek compensation if the victim's injuries directly affected their relationships.
Wrongful Death: If an individual dies as a direct result of their bicycle accident, immediate family members could seek compensation for necessary expenses, such as funeral and burial costs.
The amount of compensation you're entitled to will depend on multiple factors. When an insurance adjuster reviews the details of your claim, they'll consider the following facts:
The severity of your injuries
Length of treatment needed
Any surgery required
Missed time from work
Any necessary future treatment
All of that information is essential in determining how much your case is worth and whether you'll receive a large or small settlement.
What Happens if My Insurance Claim Gets Denied?
Insurance claims can be challenging to handle. If you've never filed one before, you won't know the steps you need to take or the documentation you must submit. If the evidence you send to the insurance adjuster doesn't clearly show your injury happened as a result of the accident, and your treatment is necessary for your recovery, your claim could get denied.
Panama City bicycle accident lawyers understand what needs to happen when an insurance claim gets denied, or the settlement offer is lower than you had hoped. We could file a lawsuit against the insurance company and the at-fault driver involved. When filing suit, we try to seek compensation for punitive damages. Punitive damages punish the individual for their negligent conduct and complete disregard for another person's safety.
Injured in a Bicycle Accident? Call The Bruner Law Firm Today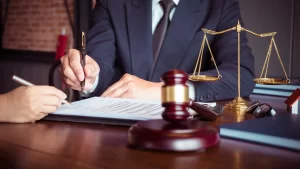 If you or your loved one suffered bicycle accident injuries, call The Bruner Law Firm for a free consultation. We don't believe in adding to your current financial burden. You can meet with one of our Panama City accident lawyers completely free of charge. We're happy to review the details of your case and advise your best options for moving forward.
We believe in open and honest communication, no matter what. We'll never hide any information from you while your case is ongoing. We'll provide frequent status updates, so you know what to expect on the road ahead. If you have any questions, we'll answer them, so you understand the legal process in its entirety.
When you hire us, we'll treat you with respect, compassion, and professionalism at all times. We believe in taking an individualized approach to meet each client's needs. Our Panama City bicycle accident lawyers dedicated their time to representing clients just like you since 1992. We take great care in the cases we handle and devote ourselves to meeting and exceeding your expectations.
Call (850) 769-9292 today or submit your request through our online contact form. We'll schedule your free consultation immediately.