When you sustain a brain injury because of another individual's careless actions, you are entitled to seek compensation. The Panama City brain injury lawyers at The Bruner Law Firm have experience handling a range of incidents that cause brain injuries. We represent victims of brain injuries caused by auto accidents, medical malpractice, slip and falls, workplace accidents. Additionally, we assist with wrongful death claims for individuals who lost their loved ones from a severe brain injury. We offer free consultations to anyone who needs legal advice. We will be happy to meet with you free of charge to review the details of your incident. If you decide you want to move forward with your case, we will get to work immediately.
Brain injuries are devastating for everyone involved. Whether you're working on recovering or watching your loved one deal with their pain, it causes an overwhelming amount of stress. We will help you get through this challenging time in your life so you can recover from your injuries and move forward as soon as possible. Our Panama City brain injury lawyers handle all of our cases with care and attention to detail, so nothing falls through the cracks. Our clients are like family, and we will make sure your rights stay protected throughout your entire case. We guarantee you will always be treated with respect and professionalism when speaking with us. We'll forever remain diligent in getting the job done.
We believe in being honest with our clients and will keep the lines of communication open throughout your entire case. You can count on us to be there for you throughout your case to provide the support you need. When you call us, you will get connected to a knowledgeable legal professional that will any question you have and help you make the best choice for your situation. Whether your brain injury resulted from a car crash or accident at work, you will be a priority to us. You can feel comfortable knowing that you will be in great hands when you're working with one of our attorneys.
What Is Traumatic Brain Injury?
A traumatic brain injury (TBI) is when a sudden jolt or blow to the head causes damage. This type of injury ranges from a mild concussion that heals in a short amount of time to permanent brain damage that affects an individual for the rest of their life. Many brain injury victims don't realize how dangerous their symptoms are initially. Brain damage isn't always easy to identify, mainly because its symptoms mimic other kinds of conditions and illnesses. The most common symptoms of traumatic brain injury include:
Headaches
Blurred or lost vision
Dizziness
Confusion
Mood changes
Short-term memory loss
Difficulty sleeping
If you're unfamiliar with the symptoms of a brain injury or brain damage, you might brush off what you're feeling as a result of stress or lack of sleep. Recognizing initial TBI symptoms could prepare you for the steps you should take to recover compensation from the person who caused your accident.
Common Causes of Panama City Brain Injury
Whether you're involved in an auto collision on the highway or the victim of a medical procedure gone wrong, you know how important it is to seek justice. If you're in pain, unable to work, and worried about paying your medical bills, all you want is some sort of help to relieve the burden you face every day. The Bruner Law Firm handles the following common brain injury cases for victims and their loved ones:
Car Accidents
Slip and Fall
Medical Malpractice
Workplace Accident
Wrongful Death
We will use all the resources at our disposal in your TBI case. We've been working on personal injury claims for the past 25 years, and we're able to overcome any obstacle that comes our way.
How Does the Process of Filing A Claim Work?
Many people think they can handle their brain injury case on their own. However, most of them don't understand the process they have to go through and the compensation they deserve. Insurance companies will try to find any reason to deny your claim or offer you a smaller settlement than you deserve to make your request go away. Insurance adjusters will try to take advantage of your lack of knowledge, especially when they find out you don't have legal representation. That's why hiring an attorney to handle your case is your best option to ensure a positive outcome.
Your Panama City brain injury lawyers will walk you through the entire process of your insurance claim so you understand what your rights are. We will obtain a copy of the at-fault party's liability insurance policy and notify them of our intent to file a claim. Then, we will open an investigation of your accident to gather all of the evidence we'll need to prove your claim. We'll collect police/incident reports, video surveillance of the incident, photos of your injuries, pictures of the accident scene, and witness statements.
While we're obtaining all of the documentation we need, you should seek initial treatment for your injuries. If you undergo an examination from a medical professional immediately after your accident, that can help us build a strong case for you. Your medical records will show the injury you have and the doctors you went to for treatment. After your initial medical assessment, it's necessary to follow your physician's orders and see them as often as they suggest. If they refer you for imaging or specialty treatment, you should follow their instructions. The insurance company might deny your claim if there's a gap in your appointments or you continuously cancel them.
When your doctor releases you from their care, we will send a demand letter to the insurance adjuster, telling them the amount of compensation we believe you deserve. The adjuster will request we send them your medical records, incident reports, and any other documentation we have found to prove another person's negligence caused your injury. If they accept the demand we submit, they will review the evidence and present an offer. The amount of your settlement will depend on the severity of your brain injury and the liability limits listed on the at-fault party's insurance policy. If we're unable to reach an agreement that is acceptable to you, we will file a lawsuit against the insurance company, and possibly against the negligent individual or entity.
What Compensation Am I Eligible to Receive?
The amount of money you're entitled to will depend on the limits of liability in the negligent party's insurance policy. Liability insurance on a home, car, or business includes bodily injury limits. This coverage compensates an injured person for all the damages they incurred due to the incident. In personal injury, damages intend to make a person "whole" after an accident. They are the losses resulting from the victim's recovery. If someone caused your brain injury, you might be entitled to the following damages:
Medical Bills – Any treatment that is deemed as medically necessary to treat your injuries, such as ambulance services, ER visits, physical therapy, permanent disability, home health care, prescription medicine, and medical devices.
Lost Wages – If you're unable to earn a living because of your TBI, you could seek compensation for past and future pay.
Pain and Suffering – Any physical suffering you had to endure because of the extent of your injuries. That includes any significant pain that prevents you from performing your daily routine as usual.
Loss of Consortium – An immediate family member could seek compensation if their relationship with the victim were affected as a direct result of the brain injury.
Wrongful Death – If an individual dies from their brain injury, their loved ones could seek compensation for damages, such as funeral and burial expenses.
It would help if you didn't have to pay for your expenses when you sustained an injury because someone else was irresponsible. They should be held responsible for their actions and suffer the consequences. Your Panama City brain injury lawyers from The Bruner Law Firm will fight hard to seek justice for you. We know how important it is to resolve your case quickly so you can return to your regular schedule and the activities you enjoyed doing before your accident. We will work efficiently, so your case doesn't drag on for longer than it should.
Call the Panama City Brain Injury Lawyers at The Bruner Law Firm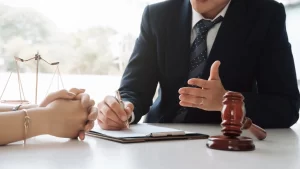 The Bruner Law Firm has over 25 years of experience handling brain injury cases in Panama City and Fort Walton Beach. Our team of legal professionals represents victims in a wide range of accidents. We dedicate ourselves to ensuring our clients receive the financial compensation they deserve. We have the knowledge and skills to negotiate with insurance companies and reach a settlement or litigate our clients ' cases to take to court.
We don't believe in adding to the financial burden our clients face. That's why we offer free consultations to anyone thinking about retaining an attorney. There's absolutely no risk or obligation to speak with us. We'll schedule an appointment so you're able to discuss your case and receive legal advice about how you should move forward. We won't pressure you into making any decisions you're not ready to make. We'll tell you what your options are and help guide you towards the best path to take.
If you or your loved one suffered a brain injury because of another individual's reckless behavior, call a Panama City injury lawyer today. We'll be happy to review all the details of your traumatic situation and determine if it's something we can handle. We know you'll be satisfied with the services we offer. We have offices conveniently located in Panama City and Fort Walton Beach. Call us at (850) 769-9292 right now so we can get you scheduled for your free consultation.