Fort Walton Beach Employer Negligence/Liability Truck Accident Attorneys
If you have been injured as a result of a truck accident caused by employer negligence, you may be entitled to receive compensation. You need to speak with an experienced personal injury attorney about your case. You should not have to pay for an injury that was not your fault.
We understand that this can be an overwhelming experience. You have been hurt, and you need help now. This can be especially frustrating when your injury was preventable. While we can't change what happened, you can trust that we will fight to hold the party at fault responsible.
Call the Fort Walton Beach truck accident lawyers of The Bruner Law Firm today at (850) 243-2222, or contact us online to speak with one of our truck accident attorneys about your case. Let us guide you so you can move on from this devastating time.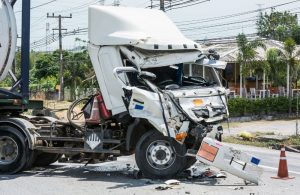 The Responsibility of a Truck Driver's Employer
The commercial trucks that travel on our city streets and highways are large and powerful machines. In order for them to operate safely, many things must occur. Each entity involved in keeping the trucks on the road has duties it must perform. This includes people like the driver of the truck, the company who hired the driver, the company that manufactured the truck and trailer, anyone performing maintenance, and anyone inspecting the truck. When one of these parties fails to uphold their duty, this is called negligence. It creates an unsafe situation that is a recipe for disaster.
The employer of a truck driver has specific responsibilities to ensure safe operation. These include:
Hiring truck drivers that are licensed and have a safe driving record
Providing adequate training for truck drivers
Performing regular maintenance on their trucking fleet
Supervising truck drivers to ensure proper inspection of loading and securing devices
Ensuring that truck drivers conform to hours of service regulations 
When any of these elements does not occur, the employer essentially starts a ticking time bomb. It can take months or even years for a dangerous situation to manifest. Just because an accident has not yet occurred doesn't mean there's not a problem. When the time finally comes, unfortunately, innocent people like you are the ones who pay the price. You need someone who will fight to pursue the justice you need and deserve. Contact us today.
How the Employer's Negligence Can Cause an Accident
There are many reasons why a truck driver's employer may fail to take care of their responsibilities. Perhaps they are facing a shortage of qualified truckers. They may decide to hire someone with a dangerous driving history. They may be understaffed and decide to have more drivers on the road sooner by skipping training. Whatever their reason may be for not upholding their duty, it is decidedly unacceptable.
Not only is it unethical, but it also means that the employer becomes liable for any damage that occurs as a result of their failure. This could happen if a truck driver falls asleep at the wheel. Perhaps the driver isn't thoroughly familiar with his equipment, causing a crash. It could even be that a driver regularly behaves dangerously by speeding or driving aggressively.
After an accident, there will be an investigation to determine what happened. There is a significant amount of documentation to collect and preserve. Analyzing the evidence to understand who is liable can be a lengthy process.
Pursuing Compensation After a Truck Accident
The time after a truck accident can be confusing. You may wonder what to do next and how you will move on with your life. You may be facing a growing stack of medical bills. This can be particularly frightening if you are currently out of work due to your injury. You need an experienced truck accident attorney to take over your case and fight for you.
Florida is a "no-fault" state, which affects how compensation after an accident works. All drivers are required to purchase insurance coverage called personal injury protection (PIP). In the event of an accident, this covers at least $10,000, but up to the policy's limit, of losses you incur due to injury and property damage. You must first file a claim with your PIP insurance company before you can pursue other compensation.
There are other requirements that must also be satisfied in order to file a liability claim with the truck driver's employer's insurance. Specifically, an injury must qualify as "serious." If any of these criteria are met, the injury may qualify:
Permanent and significant loss of a vital bodily function
Permanent injury other than disfigurement or scarring
Permanent and significant scarring or disfigurement
Death
When you pursue compensation from a liability claim, you might recover money for:
Medical bills you have incurred
Future medical bills
Lost income
Lost earning capacity
Property damage
Pain and suffering
Loss of enjoyment of life
Emotional distress
Our truck accident attorneys will explore all potential components of compensation to which you may be entitled. You can trust that we will pursue the maximum amount of compensation for you.
How Long Do I Have to File a Lawsuit?
There is a statute of limitations in Florida that governs how long you have to file a lawsuit. This means that after this time period has passed, you can no longer sue for compensation in court. The time limit is four years from the date of the accident. When you select The Bruner Law Firm to represent you, we will ensure that all deadlines in your case are met.
Why Choose The Bruner Law Firm?
We have been helping accident victims just like you seek justice since we opened our doors in 1988. We have gained a depth of experience during this time that we will bring to your case. We know how to hold the at-fault party responsible.
Our results speak for themselves. The satisfaction of our previous clients is the reason we do what we do. When you choose The Bruner Law Firm, there are no upfront fees. You can rest easy knowing that you do not owe us a single dollar unless we win your case, and you receive compensation.
Contact Us Today
If you have been hurt in a truck accident caused by an employer's negligence, you need to call a truck accident attorney now. You may be entitled to financial compensation. We can answer any questions you have during a free consultation. Let us put your mind at ease and guide you through this difficult time. Call (850) 243-2222 today to speak with a member of the The Bruner Law Firm legal team about your case.