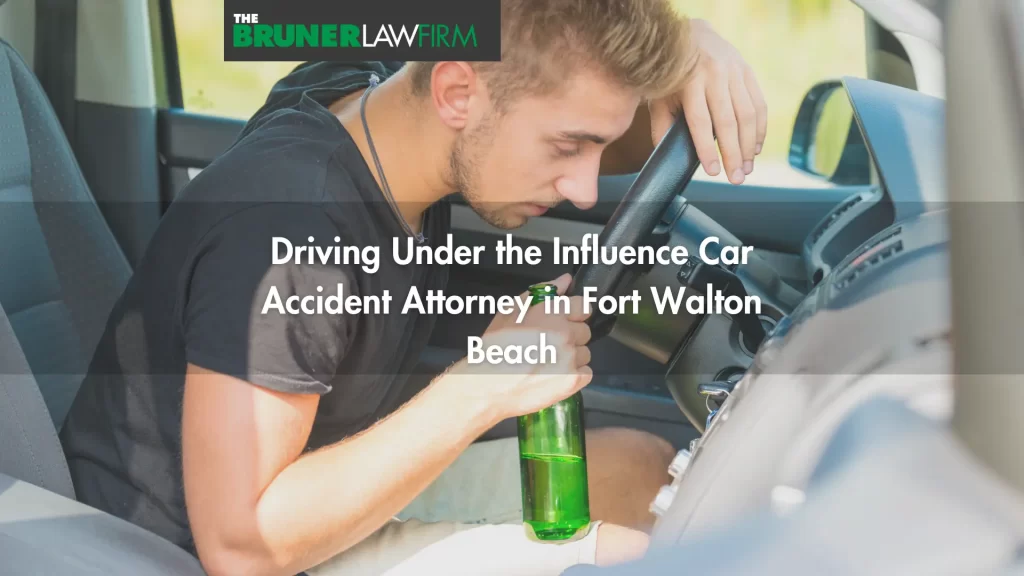 Has someone injured you or someone you love in a car accident in Fort Walton Beach? Was this accident caused by the other party driving under the influence of alcohol or drugs? If so, you should consider speaking to the attorneys at The Bruner Law Firm about obtaining compensation through a personal injury claim or lawsuit. Call us today at (850) 243-2222 for a free consultation, and let us help you get back on your feet after a negligent accident.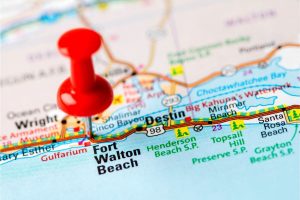 Why Do I Need a Lawyer for My DUI Accident?
We help Florida residents get compensation for accidental or malicious injuries through personal injury claims and in some cases personal injury lawsuits. Attempting to file a claim or suit without the help of an attorney is possible, but it may end up costing you more time and money than you think.
A lawyer can explain the process and make the ordeal easier and more manageable. We know the ins and outs of Florida injury law and how to make it work for you and your family.
Unlike criminal cases, the end goal of civil cases is not to convict anyone of a crime but to obtain monetary compensation for the losses occasioned to you by another party. Knowing exactly what these losses are is crucial to getting the full amount you deserve. Your lawyer can help you understand economic and non-economic damages and how they might apply to your claim.
Insurance companies will often try to take advantage of inexperienced claimants by offering a nuisance settlement, which is an amount far below what your claim is actually worth designed to get rid of you. Your attorney will make sure that your rights are protected and help you get the maximum possible payout for your claim.
Why Hire The Bruner Law Firm To Represent Me?
With over thirty years of experience in injury law, The Bruner Law Firm has the experience to get the results our clients need. Since 1988, we've helped thousands of residents of Fort Walton Beach and elsewhere to move on after a wide array of injuries, from car accidents to multi-million dollar lawsuits.
We are a family firm, and you'll be treated like family when you choose us to represent you. Vince Bruner, our firm's founder, along with daughter Peggy and sons Drew and Vince Jr., will bring their wealth of knowledge and experience to bear on every case we take on. We won't treat you like a statistic at The Bruner Law Firm. We'll treat you with the dignity, compassion, and respect you deserve.
There's no need to take us at our word. Head over to our Testimonials page and hear from some of our past clients.
Why Driving Under the Influence is Dangerous
Every day in America, around 800 people are injured in a DUI traffic accident. That's more than one person every two minutes. These numbers only reflect alcohol-related DUIs. When additional substances are included, the numbers climb higher. The CDC estimates that drugs and alcohol are a factor in more than 15% of traffic accidents.
Driving a vehicle while under the influence is a dangerous proposition, and not just because of the consequences of being caught. Drugs and alcohol can substantially affect a person's coordination, judgment, motor control, and vision. Though the national blood-alcohol limit is .08%, even a small amount of alcohol can severely limit a person's ability to operate machinery safely. The National Highway Traffic Safety Administration states even a .02% blood-alcohol content can lead to reduced visual acuity, reduced coordination, and decline in judgment.
The effects of drugs and alcohol on someone behind the wheel are well-documented. A drunk or high driver can easily injure anyone on the road with them and should be held accountable for their actions.
Florida DUI statistics
Here is some data regarding the prevalence of DUIs on Florida roads:
Florida had 380 impaired driving crashes in 2020.
330 of those crashes included a fatality.
Florida reported almost 8,500 fatal DUI crashes between 2003 and 2012.
Drunk driving is the leading cause of traffic-related fatalities in Florida.
The age group with the largest number of DUI fatalities was ages 25-29.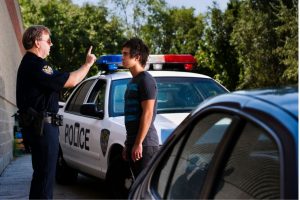 Compensation for a Driving Under the Influence Accident
In most cases, compensation will come from the responsible party's insurance company. Obtaining compensation requires proving negligence. Florida law requires all citizens to behave in a manner that doesn't harm others. If we can prove that the person responsible for your accident was supposed to act safely, didn't do so, caused an accident as a result, and this accident injured you or caused you loss, then we should have a valid compensation claim.
In some cases, the insurance company may deny payment on a claim or refuse to pay an amount that adequately compensates you. Your attorney may then recommend moving forward with a lawsuit against the responsible party directly. This takes the final decision on whether or not you receive compensation out of the insurance company's hands, but it also means you may not receive a judgment in your favor.
It's impossible to estimate the amount you may receive without a full review of your case.
You may be compensated for a variety of economic and non-economic damages, depending on your actual losses. Some examples of economic damages include the following:
Lost wages
Property damage
Household expenses
Lost opportunity
These are losses with a specific dollar value. Losses without a specific dollar value, or non-economic damages, include:
Pain and suffering
Scarring and disfigurement
Mental anguish
Loss of enjoyment Reputational damage
If you can prove the responsible party acted with intentional misconduct or gross negligence, you may also be eligible for punitive damages. Ask your attorney if punitive damages may apply to your case.
Call The Bruner Law Firm Today
Florida's statute of limitations on personal injury lawsuits is two years, so don't delay any longer. Call The Bruner Law Firm today for a FREE consultation. Our experienced car accident lawyers will review your case and discuss your options, all free of charge. Don't let a negligent driver destroy your financial future. Call (850) 243-2222 for a free consultation today.