Fort Walton Beach Attorneys for Lacerations in Truck Accidents
If you sustained lacerations in a truck accident due to someone else's negligent actions, contact The Bruner Law Firm immediately. You might be entitled to financial compensation for your hospitalization, prescriptions, and other necessary expenses to treat your injury.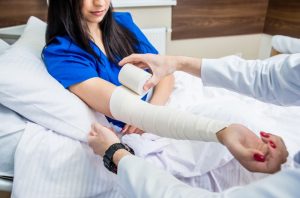 A laceration injury can range from minor to severe. Sometimes, truck accidents cause superficial cuts and scrapes on the skin. However, severe lacerations can damage nerves, tissue, and muscle. The injury might even affect the bones and joints. Deep wounds can lead to debilitating symptoms and physical impairments.
Treating lacerations can be expensive. Unfortunately, some accident victims can't afford the medical bills they receive and end up in debt. Hospitalization, surgery, and other expenses are too substantial to pay out of pocket. Pursuing compensation from the negligent truck driver or another party could be possible.
You have a right to hold the truck driver liable for their actions. They should be financially responsible for your incurred costs if they are at fault for the accident and your injury. Our personal injury lawyers are ready to help you with your case and aggressively seek the maximum compensation you deserve. We will fight by your side until the end.
Call The Bruner Law Firm for your free consultation with an experienced Fort Walton Beach truck accident lawyer today at (850) 243-2222.
An Overview of Lacerations
A laceration is a jagged or irregularly shaped wound in the skin. It can be superficial or extend to the soft tissue and other structures beneath the skin layers. Truck accidents can produce sharp metal, broken glass, and other flying debris. Anyone in the path of the debris could sustain a laceration.
Bacteria can develop near lacerations and enter the open wound. Infections could form from the bacteria and cause serious problems as they travel through the body. Vital organs could shut down if an infection reaches them. Sepsis, shock, and death could also occur if an infected laceration goes untreated.
Warning Signs and Complications of Infections
Seeking immediate medical attention for a laceration is vital. However, you're not in the clear just because a doctor addresses your injury. You must follow aftercare instructions provided by your physician and check for signs of an infection.
The skin often appears swollen and red when a laceration becomes infected. It also feels warm to the touch and painful. Other common symptoms of infected cuts include:
Fatigue
Skin tenderness
Swollen lymph nodes
Pains and aches
Warm skin at the injury site
Vomiting and nausea
Redness that starts at the laceration and spreads outward
Fever
An infection is likely to develop if you don't treat your laceration injury. As the infection spreads throughout the body, complications can arise, such as:
Sepsis
Necrotizing fasciitis
Cellulitis
Osteomyelitis
Compensation for Lacerations in a Truck Accident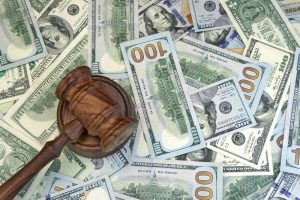 Florida has a no-fault car insurance system. That means a person injured in a motor vehicle crash must file a claim with their insurance company before going after someone else's insurance.
Personal injury protection (PIP) is a required type of coverage for all motorists. The minimum limit every driver must purchase is $10,000. PIP pays for the policyholder's lost wages and up to 80 percent of all reasonable and necessary medical costs for a covered injury until reaching the limit.
If you exhaust your PIP coverage, you might be able to file a claim with the trucking company's liability insurance carrier. However, you must meet the serious injury threshold to step outside the no-fault rule. Your injury from the truck accident must consist in whole or part of:
Permanent injury within a reasonable degree of medical probability except disfigurement or scarring;
Permanent and significant loss of a vital bodily function;
Permanent and significant scarring or disfigurement; or
Death.
You also have the option of suing the negligent truck driver or another party at fault for the crash. Whether you choose to file a liability insurance claim or lawsuit, you could recover compensation for losses, such as:
Pain and suffering
Hospital and medical bills
Plastic surgery to repair severe wounds
Emotional distress
Lost wages
Lost earning capacity
Permanent scarring or disability
Property damage
Punitive damages might also be recoverable in a lawsuit. The court awards this type of compensation if the plaintiff shows clear and convincing evidence of the defendant's intentional misconduct or gross negligence.
Statute of Limitations for a Truck Accident
You could pursue a financial award in a lawsuit against the truck driver, trucking company, or another at-fault party. Florida's statute of limitations allows a four-year timeframe to file a lawsuit. That means you have four years from the date of the crash to initiate your lawsuit for compensation.
Contact The Bruner Law Firm
Since 1992, The Bruner Law Firm has fought for injured clients in Florida. We dedicate our time and resources to accident victims suffering because of others' misconduct. We understand how traumatic it can be to get hurt in an accident involving a commercial truck. You won't have to go through this stressful experience alone when you hire us.
Our Fort Walton Beach truck accident lawyers advocate for the rights of our clients. We review the circumstances of each case and tailor our services to meet the unique needs of our client. Our personalized approach allows us to handle each case we take effectively and efficiently. We know using a customized strategy is the most beneficial way to reach a positive outcome.
The Bruner Law Firm takes cases on contingency. That means we don't charge upfront fees or costs. You don't have to pay us when you hire us. We won't collect our legal fees unless we recover compensation on your behalf. If we lose your case, you will never owe us money.
Our legal team is available 24/7. We believe in providing quality customer service to those in need. You can reach us at a time most convenient for you to discuss your case. We always treat each client as a priority and provide one-on-one attention.
If someone's wrongdoing caused your laceration injury in a truck accident, call The Bruner Law Firm at (850) 243-2222 today for your free consultation. Let us help you seek justice and get on the road to recovery.