Fort Walton Beach and Panama City Jet Ski and Boat Accident Lawyer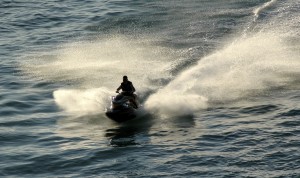 The many beaches, bays and intracoastal waterway areas along the Emerald Coast, are ideal for recreational boating including jet skis or personal watercraft. Panama City Beach, Destin, the beaches of South Walton, Port St. Joe beach and Fort Walton Beach see hundreds of thousands of visitors each year.
The fun and enjoyment of those enjoying the water can be tragically interrupted by the carelessness or negligent acts of others causing personal water craft accidents (PWC). In fact, Florida enjoys the dubious distinction of having led the nation for several years as the state with the most marine accidents. Jet skis and boats don't have brakes. Unlike cars, trucks and motorcycles, where the use of a brake, applied quickly and forcefully, can bring a vehicle under control, personal water craft and boats are largely dependent upon the operators effort to reduce the throttle or thrust of the engine, and change direction. This may be "too little, too late" and tragic injuries can occur.
Many jet ski or recreational boat operators are relatively new and inexperienced in the use of these watercraft. Having no brakes and greatly reduced steering abilities, are both counter intuitive to novice operators.
3 Common Causes of Boating Accidents
The Dangers of Boating While Intoxicated
Florida borders some of the most beautiful waterways in the world. Unfortunately, the endless stretches of ocean present a huge risk for boating accidents and Florida is leading the country with the highest number of boating deaths. It is not surprising that one and three of all boating fatalities involve alcohol intoxication. Many people think a lack of traffic in oceans and lakes makes drinking a low-risk activity. However, boating while intoxicated is an underestimated risk to everyone on the water.
Those who operate a boat while intoxicated not only threaten the safety of others, but also pose a threat to themselves—there are many cases where a drunken boater has fallen overboard, drowned, or capsized the boat. The dangers of boating under the influence include some of the following.
1. Motion of a boat intensifies drunken symptoms
While traffic on the water is far less saturated than roadways, the symptoms of intoxication are exacerbated on a boat. Not only do you become intoxicated faster than usual, but the motion of the waves combined with engine vibrations and the hot sun is prone to cause sickness, difficulty breathing, and impairment far beyond what you would experience on land.
2. Reflexes are slower
When you do come across an obstruction in the water, intoxication slows down your reaction time. Unlike cars, which can swerve out of the way fairly quickly, boats can take a long time to change course. Slowed reaction times make maneuvering around unexpected swimmers and other obstacles in the water difficult while under the influence.
3. Inexperienced operators
Drunk boating is also dangerous because most boaters do not have sufficient experience operating a boat. Operating these vehicles is different than driving a car and intoxicated operation makes safe handling of a boat nearly impossible. Difficulty steering, accidental speeding, and a lack of safety features increase the risk of causing injury to others.
While law enforcement does everything they can to patrol boats and administer breathalyzer tests, it is difficult to prove a boater's intoxication was the reason for a maritime accident. Fortunately, a qualified jet ski and boating accident attorney can investigate your case and prove another boater's negligence caused your injuries.
Learn more: Common Causes of Jet Ski Accidents
Contact a Jet Ski and Boat Accident Attorney
Alcoholic intoxication causes maritime accidents all too frequently. If you or someone you love was involved in a boating accident, our legal team understands the pain you are going through as you try to make sense of this accident. The highly skilled team at the Bruner Law Firm is ready to fight for the losses you have suffered because of another boater's negligence. These accidents are generally severe, but you can still receive the restitution that will allow you to recover fully. Don't hesitate to reach out to us today at (850) 243-2222 for support and guidance in your case.
More information of Jet Ski and Boat Accidents:
Jet Ski and Boat Accidents on Wikipedia  |  Personal Water Craft Accidents  |  FREE Case Evaluation