Fort Walton Beach Auto Accident Lawyer
If you've been injured in a car wreck in Fort Walton Beach or Panama City, we can help you. Call Today (850) 243-2222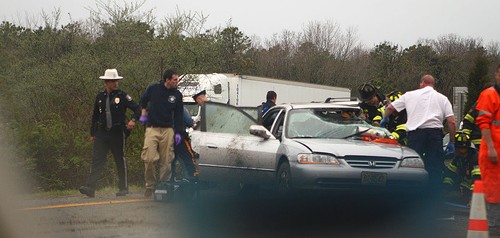 Often, one of the most life changing events one can face in almost every city in the world including Fort Walton Beach and Panama City, FL is auto accidents. It seems like hardly a week goes by when I do not see on the news or read about a fatal or near fatal traffic collision that has happened in our area. Auto accidents are never anticipated. They occur suddenly and most often, with very little or no warning.
Most drivers know how to avoid a car accident, but unfortunately drivers these days do not consciously practice safe driving every time they get behind the wheel – that is, very few drivers do. With our smart phones and GPS devices within arms reach, our minds are easily distracted. We are busily running from errand to errand just trying to keep on top of the plans of our day while keeping in touch and up to date with our friends and family at the same time. We are trying to do way too many things at once which leads to doing the primary task (driving safely) poorly. It is no wonder that auto accidents are happening with increasing frequency when we look at the increasing busyness and need for multi-tasking in our society today.
One of the key ways to avoid a car wreck is for you, as a driver, to really pay attention to the task at hand. Commit to not multi-tasking as you drive, especially on busy roads or through crowded intersections. Keep your cell phone turned off or get one of those new headphones that allows your hands to remain on the wheel as you talk. And don't even attempt to read a book or to glance through the newspaper as you drive to work as I see too many drivers doing. Avoid these and other distractions as you drive. The more you are focused on driving alone, the less likely it is that you will get into a car accident.
When Negligence Behind the Wheel Affects You – You Need an Auto Accident Lawyer
Our lives can be changed in an instant by the careless acts or negligence of drivers who fail to follow traffic laws in Florida. Often the seriousness or significance of the injury is not immediately apparent to the innocent victim. Questions concerning who will pay the medical bills, lost wages, damages to your vehicle and for permanent injury or impairment often arise.
The bottom line is that all driving carries a risk of a car accident. While you cannot totally prevent an accident from happening, you can take steps of caution and wisdom to lessen your chances of a car accident happening to you. If it does happen to you or someone you love, you need to have an experienced auto accident lawyer by your side.
If you've been injured in a car wreck in Fort Walton Beach, Panama City or anywhere in between, our our auto accident lawyer can help. We have more than 20 years experience trying personal injury cases and can help you get justice.
Call Today (850) 243-2222